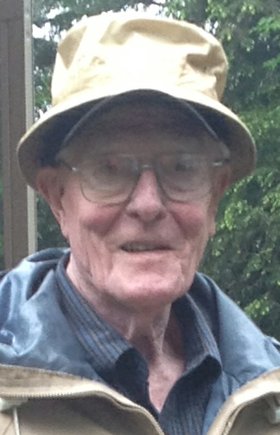 Warren G. Perkins
unknown - November 15, 2013
Warren G. Perkins, 92, of Fayetteville, died at his home on Nov. 15, 2013. He was lovingly surrounded by his children Bronwen (Stephen Sama), Brian (Delores), Jennifer (Jeremy Kay) and Ross Mary Ellen). He will also be missed terribly by his grandchildren, Jonathan, Craig, Brittany and Chelsea and by his great-grandchildren, Mikayla and Derek. His two sisters, Marion Goodermote and Carolyn Webber also survive him.
He was born in Berlin, N.Y., in 1921. He served in the Army Air Corps from 1942 - 1945 in England where he met his English war bride and the love of his life, Joan. She predeceased him in 1993. He was educated at SUNY Oswego and had a successful teaching career as an industrial arts and driver education teacher in Northville, N.Y. and as vocational coordinator at Fayetteville-Manlius High School. He enjoyed a long retirement building log cabins, hunting, woodworking, helping his children and assisting his neighbors.
Warren Perkins will be remembered for his devotion to his family, his reverence for nature, his strength and fortitude, his fine work ethic, kind deeds, and sense of humor.
A gathering of family and friends: from 2 - 5 p.m. Nov. 19 at the United Church of Fayetteville. Burial will be private.