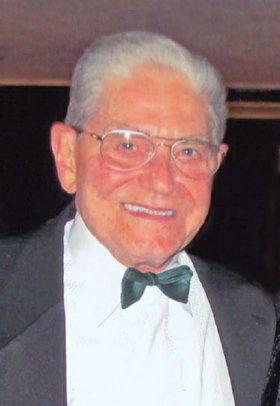 Charles Stewart, Jr.
unknown - November 16, 2013
Charles William "Bill" Stewart, Jr., of Manlius, passed away Nov. 16, 2013, at his home, surrounded by his loving family.
He was the son of the late Charles and Ada (Breed) Stewart, Sr. and a dedicated husband to his first wife, mother of his daughters, the late Dorothy Kaston Stewart.
Bill was an Army veteran of WWII and Korea. He received his undergraduate and graduate degrees in chemistry and business administration from Rutgers University. He was hired by Merck Pharmaceuticals upon graduation and then spent many years at Upjohn in Kalamazoo, Michigan, where he was proud to have been on the team of chemists that developed Motrin and several other key pharmaceuticals.
He returned to Syracuse to be director of worldwide procurement at Bristol-Myers and from 1985 to 2010 was CEO and president of Chemsultants International.
He loved his golf and scuba diving and whenever he was at rest, there was a book or a crossword puzzle in his hands. He never wanted to cook, but if you gave him a steak and a grill, he was the best chef around. He was a member of Beta Gamma Sigma, the American Chemical Society, the Cavalry Club and the George and Rebecca Barnes Foundation and was a communicant of St. Ann's Church, Manlius.
He said he was blessed with three things - his years on this earth (86) to learn so much, his loving family and a belief in God that gave him peace as he passed from his loving wife, Arlene, and family.
He is survived by his brother Donald (Shirley) Stewart; his wife, Arlene Hanken Stewart and by his four daughters and families; Linda Bondy of Liverpool; Cynthia (Steve) DeKruyter of East Grand Rapids, MI; Barbara (Bill) Heemer of Northville, MI; and Debra Stewart of Syracuse. He leaves five grandchildren; Paul (Laura) Bondy, Margaret (Kevin) Francis, Benjamin (Lauren) DeKruyter, Todd DeKruyter and Allison Heemer, and four great-grandchildren; Luke and Max Bondy, Claire Francis and Layla DeKruyter, and several nieces and nephews.
Services: 10 a.m. Thursday, Nov. 21, at St. Ann's Church, Manlius. Calling hours: 4 to 7 p.m. on Wednesday, Nov. 20, at St. Ann's Church, 104 Academy Street, Manlius
Memorial contributions may be made to The George and Rebecca Barnes Foundation, 930 James St., Syracuse, NY, 13203 to help save the historic property where he made many happy memories or to Hospice of CNY, in thanks for their dedicated care. For a guest book, directions, and florists, please visit: scheppfamily.com.