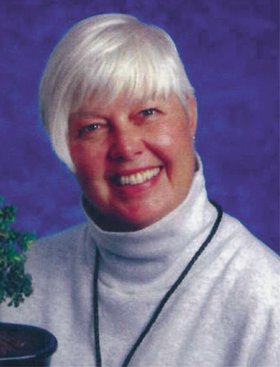 Mary Bloomer
unknown - October 28, 2013
Mary Holmes Bloomer died Oct. 28, 2013, after the long goodbye brought by Alzheimer's. A Christmas present to her family, Mary was born on Dec. 27, 1941, also her mother's birthday. Born in Syracuse, she grew up in Cazenovia, justa few miles south. After her father's untimely death when she was 13, her mother went to work for the Episcopal Diocese in Central New York while Mary lived briefly wit an aunt in Syracuse. After high school in Cazenovia she went to Wells College, Aurora, N.Y., and "home" moved to Annapolis, MD, with her mother's reassignment. After college, then a few forays into the job market, she went to work at the Library of congress in the cataloging division. During a 12-year marriage she became involved with the art of bonsai (Japanese-styled tray-planted trees.) The marriage ended but bonsai gave her an expansive network of friends and activities. This led to a Bonsai Clubs International Convention in July 1984 where a mutual friend introduced her to Peter Bloomer. Their mutual interest in bonsai led to collaboration on a book about the U.S. National Bonsai Collection. In the midst of that project, Peter and Mary married in October 1985.
Mary went on to become president of BCI and a board member of the National Bonsai Foundation. In Flagstaff she continued her library career with the Flagstaff Public Library. Upon retiring in 2002, Peter and Mary moved to Sedona. Her leadership qualities, fondness of people and an endearing laugh were the hallmarks of a life well lived. She is survived by Peter and her brother, John.
In lieu of flowers, donations to the National Bonsai Foundation, Washington, D.C., or to the Nature Conservancy would be her fondest wish.