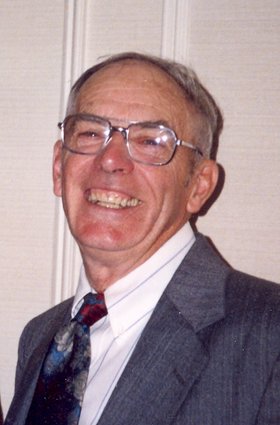 Gerald Merriman
unknown - November 10, 2013
Gerald W. "Frosty" Merriman, 92, of Otisco died Sunday, Nov. 10, 2013. He was the son of James Franklin and Margaret Agnes (Flanagan) Merriman. Gerald was a lifelong resident of Otisco where he owned and operated his own dairy farm, retiring in 1975. He then was a proud employee of the Onondaga County Library system for 10 years. Gerald was very active and loved being a communicant of St. Patrick's Church, Otisco where he was a lifelong member of the Parish Counsel. He was predeceased by his wonderful wife the former Mary J. Gorman in 1993. At 92 years young he chopped his own firewood, rode snowmobiles and 4-wheelers in the fields of Kamm Road, and kicked up his heels at parish square dances. He was a devout Catholic and the most decent man we knew.
Gerald was a devoted brother, wonderful and loving husband, father, grandfather and friend.
Surviving are his children David (Helen), JoAnn (Paul), Susan (Wade) O'Brien, Michael (Maureen), Gerald (Carol), Ellen, Marjorie (Grant) and Amy (Dave) Locastro; his siblings Paul, Arlene Swete, Lucy Swanson and Vincent; 17 grandchildren Meghan (Tracey), Courtney, David, Peter, Jake, Michael, Hannah, Laney, Matthew, Kevin, Casey, Katy, Mary, Maddy, Katherine, Lilly, and Ben; one great-grandson Jackson; many nieces and nephews.
Calling hours: 3 to 7 p.m. Thursday, Nov. 14, in St. Patrick's Church, Otisco. Mass of Christian burial: 10:30 a.m. Friday, Nov. 15, also in St. Patrick's Church with the rite of committal and burial following at Immaculate Conception Cemetery, Pompey.
In lieu of flowers, contributions may be made to Catholic Charities, Diocese of Syracuse, 1654 W. Onondaga St., Syracuse, NY 13204. Ryan Funeral Home, Marcellus had arrangements.