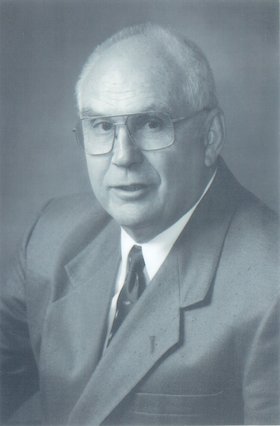 Dr. Charles Elliott
unknown - November 10, 2013
Dr. Charles F. Elliott, of Fayetteville, died on Sunday afternoon, Nov. 10, 2013, at home, surrounded by his family. He was the son of Edgar Elliott and Frances Grabowski Elliott, born in Syracuse on April 29, 1930 and the beloved husband of Kathleen (Hopkins) Elliott.
Dr. Elliott graduated from Nottingham High School and was in the LeMoyne College class on '52. He graduated from Georgetown medical School, where he received the Mosby Book Award and Medal for excellence in obstetrics and gynecology.
Dr. Elliott interned at St. Mary's Hospital in Rochester, and then was a general medical officer in the Navy, stationed in San Diego, CA. He then returned to Syracuse to complete a residency in family practice at St. Joseph's Hospital, becoming board certified in family practice, and a member of the Roswell Park Board in Buffalo. For 40 years, he practiced family medicine in Fayetteville. During his years of practice, he developed a special relationship with his patients. His kindness, patience, compassion and caring were legendary. His office staff (his girls) and he were like family, always willing to squeeze one more sick person into the schedule. He would often greet his patients with the line "what's a nice guy/girl like you doing in a place like this" and then ease their minds and pains.
Dr. Elliott was a communicant of Immaculate Conception Church in Fayetteville, where he and his wife, Kathy, walked to 6:30 a.m. mass nearly every day for 30 years. He was a eucharistic minister, lector and adult funeral server, as well as a volunteer in spiritual care at St. Joseph's Hospital. In addition, he was a member of the Cazenovia Golf Club where he and Kathy golfed together every Wednesday, his day off.
He was an avid supporter and volunteer at Christ the King Retreat House; he received the Bishop O'Keefe Award as a result. He was also a member of the board of Jim Marshall Farms Foundation, an organization that was formed to help people with depressive illness. Dr. Elliott and his wife Kathy were co-founders of the Natural Family Planning program for the Syracuse Catholic Diocese, and he was the medical director throughout its existence. Dr. Elliott and his wife received the Distinguished Alumni Award from LeMoyne College and the Syracuse Right to Life Award.
He is survived by his wife of almost 60 years, Kathleen; and six children, Steve (Kathy) of East Amherst, Andy (Dianne) of Charlotte, NC; Kathleen (Andy Birdsall) of Cortland; Peter (Carlotta) of Fairfield, CT, Molly (Gino) Malgieri of Manlius and Chrissy (Knuckles) Erbacher of Clarence. There are 20 much-loved grandchildren, Katie (Kenny) Price, Michael and Brian Elliott, Jake, Lauren and Charlie Elliott, Noah and Julia Birdsall, Mallory, Caleb, Lucas, Finn and Aubrey Elliott, Liam, Madelyn and Flynn Malgieri, Annie, Kendelle, Brett and Gregory Erbacher. Also his sister-in law, Belle Elliott and many nieces and nephews. He was predeceased by his parents; brother, Edgar (Bud) T. Elliott; sisters, Edna and Bernice; a nephew, Timothy Elliott; and a niece, Kelly Glisson.
Charles/Chuck/Chooch's lasting legacy to his family was his deep love for their mother, Kathy. They were a team in the greatest sense of the word and taught their children how to live and love through their beautiful example.
Calling hours: 2 to 7 p.m. on Tuesday, Nov. 12, at Immaculate Conception Church, 400 salt Springs St., Fayetteville. Funeral mass: 11 a.m. on Wednesday, Nov. 13, at Immaculate Conception Church. Contributions may be made to Immaculate Conception Church, 400 Salt Springs St., Fayetteville, NY 13066, the James Marshall Farms Foundation, 1978 New Boston Rd., Chittenango, NY 13037 or Hospice of CNY, 990 Seventh North St., Liverpool, NY 13088. For a guest book, please visit scheppfamily.com.