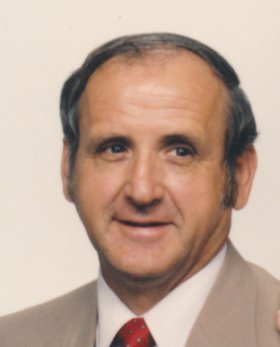 Ralph Ingham
unknown - November 4, 2013
Ralph L. Ingham, 82, of Baldwinsville went to his heavenly home Nov. 4, 2013, with his loving family by his side. Born in Fredonia, N.Y., he was the son of the late Gladys (Patrick) and Lester Ingham.
He was predeceased by his wife, JoAnn , in 2008.
Ralph was a very kind and generous man, always there for his family with a helping hand. He had a great sense of humor, and his laughter was soothing to be around. He was a talented builder and could fix anything. He enjoyed working with his Farmall tractor that he restored. You could often find him working with his tractors, reminiscing of his days spent growing up on his family's farm and grape vineyards in Fredonia, N.Y. He had very special friends that he enjoyed hunting with and talking about farming. He loved to travel, take rides in the country, spend time at his Florida home, camp with his family in the Adirondacks, and fish.
Ralph attended Purdue University, and was a US Army veteran of the Korean War. He retired after 33 years from Niagara Mohawk as nuclear chief control room operator at Nine Mile Point Unit No. 1.
Ralph is survived by daughters, Julie (and the late Richard) Shaffer of Skaneateles, and Kathleen (Ronald) Gosson of Syracuse; a son, Scott (Gwyn) Ingham of Bradenton, FL; his sister-in-law Carol (William) Hussey of Zephyrhills, FL; his six grandchildren that he loved and was proud of, Daniel Gosson, Nathan and Matthew Shaffer, Ethan, Owen and Maeve Ingham; also several dear nieces, nephews and cousins; and many close friends.
Services: 10 a.m. Saturday, Nov. 9, at Community Wesleyan Church Baldwinsville. Burial: Riverview Cemetery. Calling hours: 4 to 7 p.m. Friday, Nov. 8, at Falardeau Funeral Home, 93 Downer St., Baldwinsville. In lieu of flowers, contributions to: Crouse Hospital, Palliative Care Fund at crouse.org.