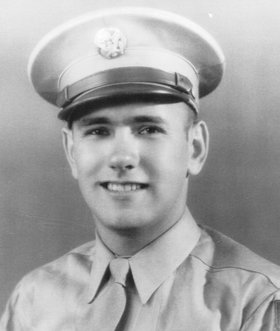 Joseph D. Romanow
unknown - October 29, 2013
Joseph D. Romanow, 87, of, Westvale, passed away Tuesday, Oct. 29, 2013 at Crouse Hospital. A native of Utica, he lived in Westvale for over 50 years.
Joe graduated in 1950 from the first graduating class of Utica College of Syracuse University, remaining active in alumni affairs. He retired in 1987 as director of special projects for Niagara Mohawk Power Corp., coordinating the company's advertising programs. Previously, he served as advertising manager at Nettleton Shoe Co., Easy Washer Co., Porter-Cable Machine Co., and the Thatcher Glass Co. in Elmira. He was a board member and treasurer of the Syracuse Ad Club.
Joe served with the 16th Regiment of the First Infantry Division in WWII and earned three battle stars for participating in the Ardennes (Battle of the Bulge), Rhineland and Central Europe campaigns. He received the Bronze Star and Purple Heart for wounds he received holding the bridgehead at the Remagen on the Rhine River. He was a member of the Disabled American Veterans, Society of the First Infantry Division, and a communicant of St. Charles Church.
Joe was a loyal, though often frustrated, fan of Syracuse University's "3 yards and a cloud of dust" football. He was a devoted keeper of the flame at Big Moose Lodge and also a lover of the well-placed one liner. Good kielbasa. No cheese!
Joe was predeceased by his brothers, Stanley, Edward and John Romanow; and sisters, Helen Zyga and Mary Remizowski.
Surviving are his wife of 61 years, the former Joan Lyons; daughters, Joanne E. (Thomas Fennell) Romanow of Boston, MA, Jane K. (Joseph) Steinman of Westvale, and Jennifer A. Romanow of Syracuse; sons, Jeffrey D. of New York City and John M. (Donna) of Edina, MN; sister, Bertha Romanow of Utica; grandchildren, Brian, Justin, Daniel, Christopher, Sara, Katie, and Emily; and many nieces and nephews.
Relatives and friends called Friday, November 1 from 4 to 7 p.m. at the Buranich Funeral Home, 5431 W. Genesee St., Camillus.
Services were at 9:15 a.m. Saturday, Nov. 2, at the funeral home and 10 a.m. at The Parish of St.Charles-St.Ann, 417 South Orchard Rd. where a funeral Mass was celebrated. Joe was laid to rest with full military honors in Greenlawn Cemetery, Warners.
In lieu of flowers, contributions may be made to Utica College, 1600 Burrstone Rd., Utica, NY 13502. Share online condolences at BuranichFH.com.