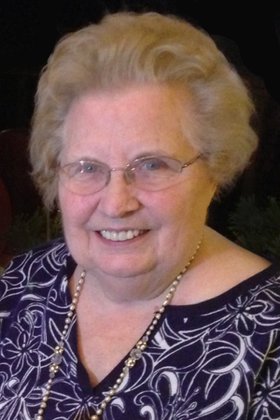 Beverly Menter
unknown - November 6, 2013
Beverly Huston Menter, 80, died peacefully on Wednesday, Nov. 6, 2013, surrounded by her loving family. Born and raised in Syracuse, she graduated from Eastwood High School and Felt and Tarrant Comptometer School. She was employed by General Electric and Spero Restaurant Supply before she and her husband, Gerald Menter, founded Hollowick Inc. in 1970.
She is survived by her five children, Jerry Menter (Anne) of Manlius, Jeffrey Menter (Peggy) of East Syracuse, Patti Menter Cagle (Rob) of Atlanta, Georgia, Shirley Menter-Busse (Scott) of Chittenango and James Menter (Debbie) of Manlius; 12 grandchildren; one great-grandchild; and the Nuon Family.
She is predeceased by her husband of 57 years, Gerald Alan Menter; parents, Fay and Thelma Huston; and her sister, Shirley Jean Huff.
Memorial service: 11 a.m. on Saturday, Nov. 9, at Manlius United Methodist Church, 111 Wesley St., Manlius. A reception at the church will immediately follow the service.
In lieu of flowers, donations may be made to Manlius United Methodist Church, where she was an active member for many years, PO Box 177, Manlius, NY 13104, Attn: Memorial Fund.