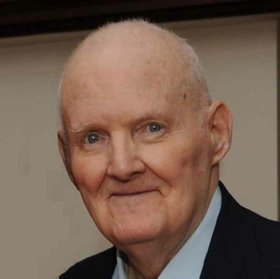 Joseph MacDonald
unknown - May 24, 2013
Joseph Michael MacDonald, 79, of Cicero, died of heart failure on May 24, 2013, at Beth Israel Deaconess Medical Center in Boston, MA. Born and raised in Ogdensburg, N.Y., he was the son of the late Kenneth and Florence MacDonald. He attended St. Mary's Academy and graduated from Holy Cross College, Worcester, MA with a bachelor's degree in English. As a young adult he worked as a tug boat captain on the St. Lawrence Seaway. He later became an English teacher and certified counselor and served the North Syracuse School District from 1960-88.
Joe Mac was a nationally known poker player. He enjoyed the outdoors and traveling with his family throughout North America, Europe, Australia, and New Zealand. Joe was a college basketball and football fan and a member of the Knights of Columbus. Generous to friends and family, a trusted confidant, and a supporter of many charities, Joe was a communicant of St. Rose of Lima Parish, North Syracuse.
Joe was predeceased by his wife of 38 years, Margaret Fraser, in 2008. He is survived by his daughter, Mary MacDonald (Karl Ackerman) of Topsfield, MA; sister Kathryn (Frank) McNulty of Liverpool, NY; and six nieces.
Funeral Services will be conducted at 9:15 am Wednesday at the Krueger funeral home and 10 am at St. Rose of Lima Church in North Syracuse. Burial will be in the North Syracuse cemetery. Friends may call from 4 to 7 pm Tuesday at the funeral home 2619 Brewerton Rd. Mattydale. Donations may be made in Joe's name to the American Heart Association 17 Technology Place East Syracuse, NY 13057.