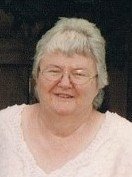 Anna P. Hall
unknown - May 31, 2013
Anna P. Hall, 76 of Chittenango, died on Friday, May 31, 2013, at Sunnyside Care Center. She was born in Syracuse on April 11, 1937, the daughter of the late Randall and Mary Ellen Brownell and graduated from Minoa High School. She was a communicant of St. Mary's Church in Minoa. Anna was a loving wife and mother and will be greatly missed by her family.
She is survived by her husband of 46 years, Clarence G. Hall, Sr.; her children, Clarence G. Hall, Jr. of Chittenango, Mary Ellen (Gabe) Elia of Camillus and Melisa Hall of Chittenango; stepdaughter, Cindy (Frank) Wallis of Earlville; sisters, Muriel Brownell and Rosemary DeLore both of Minoa, Joan Filippi of Central Square and Helen Rolfe of Syracuse; a brother, Tom (Nancy) Brownell of Chester, VA.; a sister-in-law, Arlene Brownell of Kirkville; several step grandchildren and great grandchildren; and several nieces and nephews. She was predeceased by her brother, George Brownell in 2007.
For a guest book, please visit online: scheppfamily.com.