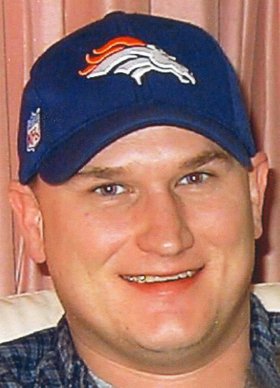 Mark F. Good
unknown - May 25, 2013
Mark F. Good, 40, of Liverpool, died Saturday, May 25, 2013, at his home. Mark was born in Denver, CO, and grew up in California and West Monroe, N.Y. He was a 1992 graduate of Paul V. Moore High School in Central Square. He received his Bachelor of Science degree in computer information systems from SUNY Institute of Technology at Utica/Rome.
Mark worked the family dairy farm in West Monroe for many years before working at various part-time jobs in the Syracuse area including, and most recently, Rite Aid Distribution Center in Liverpool. Mark enjoyed working with all types of stereo electronics. He also enjoyed writing and decorating his room. In the past, he was a snowmobile enthusiast, raced four-wheelers and liked to fish. Mark enjoyed world history and current events. He was a former parishioner and altar server at St. Michael's Church in Central Square.
Mark is survived by his parents, Francis R. "Doc" Good, with whom he resided, and Sherry A. Good of North Syracuse; his two siblings: Laura Good of Syracuse and Christopher (Bentlee) Good of Jackson, TN; a niece, Journee; his uncles: Barry (Karen) Leemann of Amboy Center and Richard (Ann) VanSteenbergh of PA; his aunt, Ella Mae Good of KS; many cousins across the US and his furry family, Miss Kitty and Hunter.
In lieu of flowers, donations in Mark's memory may be made to Oswego Hospital Behavioral Services, 74 Bunner St., Oswego, NY 13126.
Calling hours: 9:30 - 11:30 a.m. Friday, May 31, at Krueger Funeral Home, 2619 Brewerton Rd., Mattydale. Prayer services: 11:30 a.m. followed by a noon mass of Christian burial at St. Rose of Lima Church in North Syracuse. Burial will be in West Monroe Cemetery.