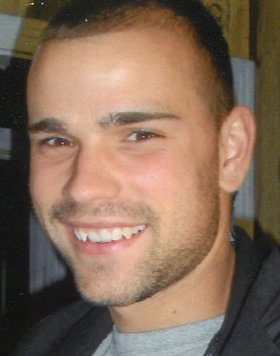 Robert A. Pfeiffer II
unknown - May 18, 2013
Robert A. Pfeiffer II, 25, of North Syracuse, passed suddenly Saturday, May 18, 2013, at St. Joseph's Hospital. Robby grew up in Liverpool and North Syracuse and attended North Syracuse High School. He worked as an asbestos remover at Summitt Environmental. Robby aka R.O.B was an avid skateboarder and a member of the NSSP. Since a child his passion for skateboarding has brought him much happiness. He loved to mentor upcoming kids who wanted to learn skate. Other than skateboarding, his greatest joy in the world was his love for his son and family.
He is survived by a son: Xavierian Pfeiffer; his parents: Robert Pfeiffer of North Syracuse and Mary-Margaret Pfeiffer of Seneca Knolls; maternal grandparents: Brenda Wilson of Baldwinsville and John Wilson of Oswego; his three sisters: Renee Pfeiffer (Shane David), Tanya Pfeiffer (Mike Corbitt), and Rebekah Pfeiffer, all of North Syracuse; two nephews: Mikey and Isaac; two nieces: Valencia aka Baby V and Rozalind; as well as several aunts, uncles and cousins. Robby's spirit has touched many people from all over the moment he met them with his contagious smile, laugh, his crazy sense of humor as well as that sparkle in his eye. You just couldn't help but want to stay in his presence.
Contributions may be made to benefit Rob's son, Xavierian, in the care of Robert Pfeiffer, 131 Ford Drive, North Syracuse, NY 13212.
Calling hours: 4 to 7 p.m. Friday, May 24, at Krueger Funeral Home, 2619 Brewerton Road, Mattydale, with a 7 p.m. funeral service following.