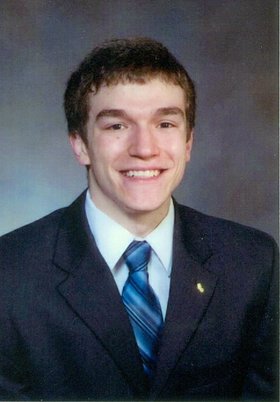 Gregory L Hutko
unknown - April 24, 2013
Gregory Lloyd Hutko, 25, of Minoa died unexpectedly on April 24, 2013, in Washington, D.C., where he was working as an Education Research and Policy Analyst at the Thomas Fordham Institute.
Greg was a graduate of East Syracuse-Minoa High School where he was President of the ES-M National Honor Society. He participated in soccer, cross country, track and was captain and five year starter on the varsity wrestling team. He also participated and excelled in extemporaneous speaking events.
While in high school, he individually trained for marathons and ran the London, England marathon for the blind/deaf charity "Sense" at the age of 17. He also spent summers with disabled campers for the Muscular Dystrophy Association and he was Special Events Chair for the Hereditary Disease Foundation with DECA raising over $10,000 for charity.
He graduated from MIT (Massachusetts Institute of Technology) with two undergraduate degrees in economics and management and with a minor in biology. While at MIT, he ran college review classes in chemistry and economics and was an undergraduate researcher at the MIT media lab. He also tutored advanced math at a local Boston high school.
As a member of Phi Delta Theta Fraternity, he chaired and developed many community service outreach projects. While in college, he was a lead hospital volunteer aiding senior citizens and MS patients with exercise programs at Upstate Medical University Hospital. He also did two internships as an economic consulting securities researcher with NERA in New York City as well as two internships with Brookings Institution in Washington, D.C.
After graduating from MIT, he taught for Teach For America in the Boston school of Orchard Gardens and earned a curriculum and teaching master's degree at Boston University.
Greg enjoyed biking treks, ice skating, running and rock climbing as well as following Chelsea football (soccer) games.
He is survived by his parents: George and Susan Hutko of Minoa. Two sisters: Joanna Popik (Ben) of Ambergris Caye, Belize and Diane Huyck (Jason) of Dewitt, N.Y. Two brothers: Robert Hutko of Ithaca, N.Y. and Michael Hutko (Jill) of London, England. He is also survived by many nieces and nephews.
Contributions in Greg Hutko's memory may be made to N.A.M.I. for further research, education and support. The local chapter is NAMI of Syracuse at 917 Avery Avenue, Syracuse, New York 13204.
A memorial to celebrate Greg's life will be open to all friends and family at 3 p.m. on Sunday, Sept. 1, at the Reserve Picnic Area of Green Lakes State Park starting in the afternoon. For guest book, visit online: scheppfamily.com.