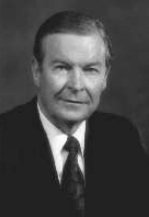 William J. Donlon
unknown - May 18, 2013
William J. "Bill" Donlon passed away on May 18, 2013, in Charlotte, N.C., surrounded by the love of his family.
The son of the late Margaret Shanahan Donlon and Charles Donlon, Bill was born in Albany on Jan. 28, 1930. After graduating from Vincentian Institute in Albany in 1947, Bill joined Niagara Mohawk Power Corporation where he would work for 46 years. Bill's opportunity at Niagara Mohawk was made possible by his mother Margaret who supported her family as a cafeteria worker for the company in South Albany.
Bill married his high school sweetheart, Patricia "Pat" Pommer Donlon, in Albany in 1952. Together they would have six beloved children during their 40-year marriage.
In 1952, Bill left the power company briefly to serve his country in the United States Navy during the Korean War. He spent most of his military service in the Mediterranean, on the USS Bennington aircraft carrier where he was assigned to the electrical division.
Upon his return from military service, Bill rejoined Niagara Mohawk and started his family with Pat in Albany. Bill's unprecedented career at Niagara Mohawk would see him rise from meter reader to chief executive officer.
Bill enrolled in night classes at Siena College, while working full time during the day. After eight years and while raising the first four of his six children, he graduated in 1962 earning a double degree in finance and economics. Later that year, Bill was transferred to Buffalo.
With his career on a sharp rise in Western New York, Bill's family continued to grow as did his involvement and contributions to the Buffalo community. It was also during his tenure in Buffalo that he developed his lifelong loyalty as a huge Buffalo Bills fan. He also participated in numerous civic and charitable activities including serving as chairman of the Erie County United Way and president of the Buffalo Junior Chamber of Commerce. It was in Buffalo that Bill also began his many years of coaching and supporting league championship baseball, softball and basketball teams on which his children played. He was an avid sportsman and golfer.
In 1970, Bill and his family moved back to Albany where his family and civic activities flourished. Bill moved with his family to Syracuse in 1976 when we was promoted to senior vice president. He was named president of Niagara Mohawk in 1980 and his career reached its pinnacle when he was named chief executive and chairman of the board in 1988, the positions he held until his retirement in 1993.
Bill's professional and community activities, and above all else, his character and personal relationships and contributions resulted in him receiving the prestigious Horatio Alger Award in 1993. Bill served as a trustee of Syracuse University and LeMoyne College, both in Syracuse. He also served as a trustee the State University of Albany Foundation, Siena College, his alma mater, and the College of Saint Rose, from which he earned an honorary doctor of laws degree in 1981. As a proud Irishman, he had the time of his life as the 1993 Grand Marshall of the Syracuse St. Patrick's Day Parade. He was also the founding chairman of the Syracuse Chapter of the Success by Six program. As a result of this and other civic and charitable contributions the Donlon Awards were created and are given annually to employers of choice in the Central New York region by The Manufacturers Association of Central New York, the Greater Syracuse Chamber of Commerce and The Metropolitan Development Association. Bill was named the 1994 Humanitarian of the Year by the Syracuse Junior Chamber of Commerce.
In 2011 Bill moved to the Charlotte, N.C. area where he continued to cheer for and watch his Syracuse University sports teams and the Buffalo Bills.
Bill touched many lives and will be greatly missed.
In addition to his parents, Bill was predeceased by his former wife Patricia Pommer Donlon, sister Helen Donlon Hanrahan, brothers-in-law, Peter George Jr., James Hanrahan and Richard Pommer, and nephews James Hanrahan and Peter George III.
He is survived by his sister Jean George, six beloved children Deborah (Lorraine) of Charleston, SC, William (Debra) of Syracuse, Robert (Pam) of Charlotte, Susan Donlon Raab (Jim) of Syracuse, James of Washington, DC, Brian (Lisa) of Chicago, 12 grandchildren, three great-grandchildren and many nieces and nephews. His greatest treasures were his children, grandchildren and other relatives. For the former CEO of a power company, it can be said he produced a greater source of energy under the roof of the warm and loving homes he filled with the laughter and voices of his children and grandchildren, including on annual vacations to Nantucket Island and on Thanksgiving get togethers.
Our deepest and most sincere thanks to Rita, Susie, Deeva and all the other kind and wonderful caregivers at the Laurels, as well to Vickie, Amanda and Dr. Kabbath and the other talented and caring nurses and doctors at CMC-Pineville.
Calling hours: from 5-9 p.m. on Wednesday, May 22, at Newell-Fay Manlius Chapel, 8171 Cazenovia Road, Manlius. Mass of Christian burial: 10 a.m. Thursday, May 22, at St. Ann's Church, 104 Academy St., Manlius. Family burial: 10 a.m. on Friday, May 24, at St. Agnes Cemetery, Menands, N.Y.
In lieu of flowers, contributions may be made to the Syracuse Chapter of Success by Six, 518 James St., PO Box 2129, Syracuse, NY 13220 or the CNY Ronald McDonald House, cnyronaldmcdonaldhouse.org.