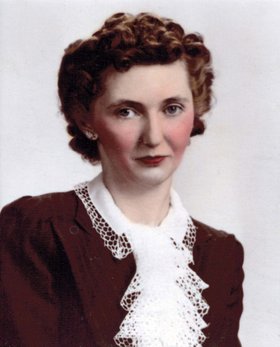 Nina B. Fergerson
unknown - May 18, 2013
Nina B. Fergerson, 98, of North Syracuse passed away Saturday, May 18, 2013, at Birchwood. Born on Dec. 20, 1914, to the late Walter J. and Lucy R. Phelps Fergerson, she is also predeceased by her brother, Walter P. Fergerson, a sister, Gloria Fergerson McCurdy and a nephew, Neil McCurdy.
A lifelong North Syracuse resident, she graduated in 1933 from North Syracuse High School, in 1937 from Syracuse University and received her Certificate of Social Work from Cornell University.
In 1980, she retired from the Onondaga County Department of Social Services, after 40 years of service. Nina was a life long member of Andrews Memorial United Methodist Church and a world wildlife enthusiast.
Surviving are her brother, Lewis A. Fergerson of North Syracuse; a niece, Sondra F. Corso of Marietta, Georgia; three grand nieces, Jennifer (Jeff) Crockett, Rebecca Corso and Megan (Eric) Walradth; a great-grand nephew, Jace Walradth and several cousins.
Services: noon Tuesday, May 28, at Fergerson Funeral with burial following in North Syracuse Cemetery. Calling hours: Tuesday 10 a.m. to noon prior to services from at the funeral home, 215 South Main St., North Syracuse. Donations may be made to worldwildlife.org; World Wildlife Fund; 1250 24th St., N.W. P.O. Box 97180; Washington, DC 20090-7180. Memorial messages may be left at FergersonFuneralHome.com.