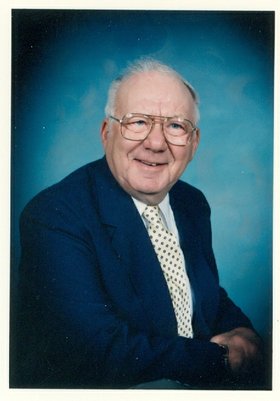 Leo E. Myers
unknown - May 16, 2013
Leo E. Myers, 89, of Jamesville, passed away peacefully on May 16, 2013, at Crouse Hospital. A resident of Kirkville for 80 years, Leo was employed by Penn Central Railroad as a car inspector for 43 years and was a member of the Transport Workers Union. He served in WWII in the European theater as a U.S. Army medic, and he was a member of the American Legion. His last nine years were enjoyed as a resident of the Nottingham Retirement Community, where he participated in the Nottingales Singing Group. He also enjoyed Thursdays with the Minoa Golden Age Club.
Leo will be remembered for his good humor, love of life and endless energy. He was a figure larger than life; he filled a room with his presence and outspoken optimism. He is survived by his loving wife of 67 years, Daisy Everling Myers; a brother James R. Myers (Barbara); a daughter Linda A. Joyce (Michael); a son Thomas E. Myers (Christine); five granddaughters: Michelle Ceglie (Rob), Carrie Erickson (Jay), Johanna Myers, Patricia Myers and Dr. Jessica Myers; and four great-grandchildren.
Mass of Christian burial: 10 a.m. on Wednesday, May 22, at St. Mary's Church, 401 North Main St., Minoa. Calling hours: 2-4 and 6-8 p.m. Tuesday, May 21, at R. H. Schepp & Son Minoa Chapel, 109 East Ave., Minoa. In lieu of flowers, contributions may be sent to the Nottingham Resident Forum Employee Appreciation Program, 1301 Nottingham Road, Jamesville, N.Y. 13078.