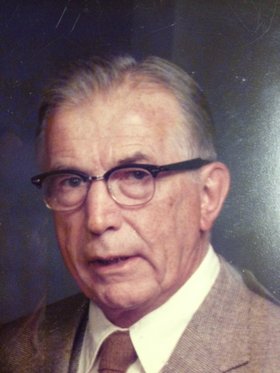 David Hartman
unknown - May 20, 2013
David K. Hartman passed away on Monday, May 20, 2013, at the age of 93. He was the youngest of a family of five siblings born in Reno, NV to astronomer Dr. Edith K. Hartman and former president of the University of Nevada Dr. Leon W. Hartman. The last remaining member of his family, Dave was predeceased by his brothers Paul and Fred, and sisters Margaret and Sara. His love for the earth and skies developed early as he grew up an Eagle Scout and stargazer in the Reno area of what he called "God's country," the Nevada Mountains.
Dave attended the University of Nevada at Reno, and was president of his senior class. He earned bachelor's degrees in engineering, math and physics, and worked for a summer at the newly built Hoover Dam.
During the war, he worked on military components, including radar and equipment for the Manhattan project, at General Electric in Pittsfield, MA. There he met his wife and lifelong partner, Jean (McAllister) Hartman. They were married in September of 1945, and began their new life by attending graduate school together. He earned his master's degrees in physics and electrical engineering at the University of Minnesota on a Gulf Oil fellowship, where he also taught in the EE department.
Dave returned to work for GE in 1952, moving his growing family to the Fayetteville-Manlius area. His career at GE spanned a total of 32 years. Beginning from the dawn of the transistor, he served as a consulting engineer, manager and leader of an advanced development group for semiconductor products. His knowledge and expertise in the semiconductor field brought him worldwide travel, including multiple trips to Japan. In retirement, he and Jean continued to travel the world, where he photographed the beauty of Europe, Russia and New Zealand.
Dave and Jean were both proud and active members of the United Church of Fayetteville since 1954. During that period, Dave served as a Sunday school teacher and led the board of deacons and elders. He also belonged to the Men's Covenant Group and served countless Meals on Wheels.
Dave traveled to all 50 states, but held a special love for Nevada. Dave and Jean loved their Cherry Manor residence and neighbors. He kept immaculate gardens, was an avid bird watcher and fought a lifelong private war with the squirrels that threatened his feeders. He was a positive thinker and above all loved and cared for his wife, children and grandchildren.
Recently predeceased by wife of 67 years Jean, Dave is survived by sons Eric, Jon (Mary) and Peter (Rose), and four grandchildren, Rebecca, Sarah, Molly and Michael, and several nieces and nephews.