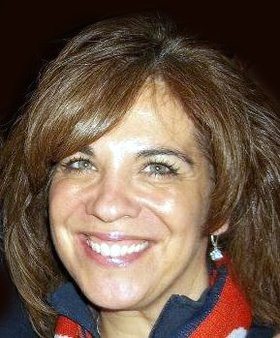 Sue Wolfram
unknown - May 9, 2013
Sue, "Susie," "Susie Sunshine" Wolfram passed away peacefully on Thursday, May 9, 2013, after a brief battle with breast cancer. Born in Syracuse on Oct. 27, 1967, she was the daughter of proud parents, Isadore and Rosalind Sauro and was a graduate of West Genesee High School.
If God were to make the perfect blend of smile, love and infectious laughter, His model would be "Susie Sunshine." "Hi, honey !" was Susie's favorite way of welcoming family and friends as she hugged everyone. Her ability to decorate her home reflected that same warmth, only to be outdone by family meals prepared with care and a touch of style that only Susie possessed. She loved to entertain her friends and family and, most importantly, loved to share a laugh.
Sue married her best friend and love, Ron Wolfram, and together they opened a pizza shop in Camillus ("Zaahs") that became a staple in the area for many years, in part, because of Susie's ability to make everyone feel welcome and special. After the birth of her two beautiful girls, she went back to work at Stonehedge School in the West Genesee School District where she truly enjoyed going to work each day to see all of her kids until her passing. She was a member of the West Genesee P.T.A. at Stonehedge.
In addition to raising her family which she was so proud of, Susie was the president of her golf league and played Bunko with her close friends. Actively involved in West Genesee lacrosse, she attended her daughters' lacrosse games and served on the John Pepper Tournament Committee. She went to SU basketball games, and was known as a second mother to her nieces and nephews, exemplifying the true meaning of "family." She constantly offered them rides to and from school, attending their sporting events, consoling them in the most difficult of moments and celebrating their triumphs.
Sue was predeceased by her father, Isadore Sauro, in 1995.
Surviving Susie Sunshine are her husband of 23 years, Ronald of Camillus; daughters, Olivia (18) and Claire (16), both of Camillus; mother, Rosalind (Bill) McDevitt of Fayetteville; brothers, Steven (Lisa) Sauro of Camillus and David Sauro of Marcellus; sisters, Dawn (Tom) Huegel of Camillus and Sheryl (Greg) O'Halloran of Mississauga, Ontario; sister-in-law, Hanna (Jim) Pecori of Syracuse; brother-in-law, Herbert (Eleanor) Wolfram of Camillus; and numerous nieces, nephews, aunts, uncles, cousins and friends
Relatives and friends called from 3 to 7 p.m. Monday, May 13 at the Buranich Funeral Home, 5431 W. Genesee St., Camillus.
Services were at 10:30 a.m. Tuesday, May 14 at Immanuel United Methodist Church, 303 Kasson Road, Camillus, with Hank Perry officiating. Entombment was in Onondaga Valley Cemetery.
Contributions may be made in Susan's memory to Stonehedge P.T.A., 400 Sanderson Dr., Camillus, NY 13031.
Please share condolences at buranichfuneralhome.com.