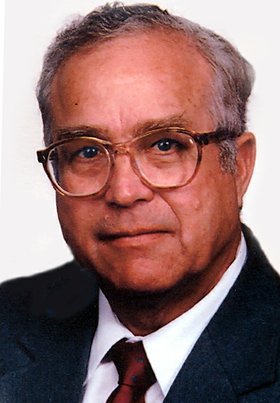 James C. Sheridan
unknown - May 6, 2013
James C. Sheridan, 79, of Howlett Hill, passed away Monday, May 6, 2013, at Upstate University Hospital at Community General. A lifetime resident of the Syracuse area, he was born on Thursday, May 18, 1933 and attended Marcellus High School and graduated from St. Vincent de Paul High School. He was an Army veteran of the Korean War.
Jim retired from GE in 1990 after almost 30 years. He was a communicant of The Church of St. Michael & St. Peter and member of the St. Vincent's Roamers. He enjoyed golf and spending time with his family.
Jim was predeceased by his parents, Christopher P. and Margaret K. (Daunhauer) Sheridan; sister, Christine Hunt; and brother, Frederick Sheridan.
Surviving are his wife of 59 years, the former Anne Lavelle; children, Christine (Fred) Bishop of Marcellus, Barbara Fetterman of Old Forge, James A. (Kathy) Sheridan of Solvay, Terry (Herb) Ziegler of Baldwinsville, Paul (Judy) Sheridan of Camillus, Katherine (Michael) Wheeler of Syracuse and Rob Sheridan of New York; 18 grandchildren; nine great-grandchildren; sisters-in-law, Patricia Sheridan and Mary Lavelle, both of Syracuse, Joan Lavelle of Florida and Eileen Lavelle of Liverpool; and 25 nieces and nephews.
Relatives and friends called from 4 to 7 p.m. Thursday, May 9, at the Buranich Funeral Home, 5431 W. Genesee St., Camillus. Services were 9 a.m. Friday, May 10, at the funeral home and 10 a.m. in The Church of St. Michael & St. Peter where a funeral Mass was celebrated with Rev. Henry J. Pedzich officiating. Jim was laid to rest in St. Francis Xavier Cemetery, Marcellus. In lieu of flowers, contributions may be made to the Howlett Hill Fire Dept., 3384 Howlett Hill Rd., Syracuse, NY 13215 or to The Church of St. Michael & St. Peter, 4782 W. Seneca Turnpike, Syracuse, NY 13215. Please share condolences at buranichfuneralhome.com.