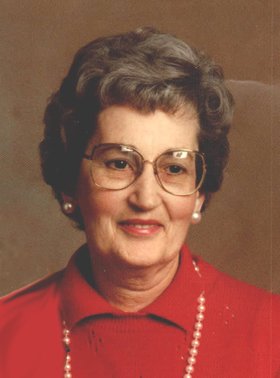 Eleanor Kenyon
unknown - May 4, 2013
Eleanor Elliott Kenyon, 88, of Camillus passed away Saturday, May 4, 2013 at St. Joseph's Hospital Health Center. Born in Weedsport on Tuesday, July 8, 1924, she lived in Camillus most of her life. Eleanor was a graduate of Camillus High School and attended Powelson Business Institute. During WWII, she served at Sampson Naval Base. She was employed by the West Genesee Central School District for more than 20 years, retiring in 1986. A member of Camillus First Baptist Church, she sang in the choir and managed the church's Nearly New Shoppe for many years. She was also a member of the Camillus Fire Dept. Ladies' Auxiliary for more than 35 years and former member of the Onondaga County Ladies' Auxiliary. She enjoyed crafts, cooking and camping, but most of all, she loved the time she could spend with her family and friends.
Eleanor was predeceased by her husband of 51 years, Charles, on January 2, 1999; parents, Grace and Charles Elliott; son, David Charles; and brother, Donald Elliott.
Surviving are her children, Lynn Renshaw of Camillus, Robert and Marie Kenyon of Sodus Point, Susan and Michael Renshaw of Camillus, and James Kenyon of Camillus; sister, Marion Meyer of Camillus; 11 grandchildren, Catina (Mike) Wilchenski of Sodus Point, David Renshaw of Camillus, Andrew (Kara) Renshaw of Fairmount, Keri Renshaw of Camillus, Laura Renshaw of Camillus, Gene (Michelle) Fuller of Florida, Shayla (John) Stringer of Williamson, Chris (Nancy) Renshaw of Virginia Beach, Virginia, Kevin (Tammy) Renshaw of Virginia Beach, Virginia, Scott Renshaw of Cazenovia and James Renshaw of Syracuse; 20 great-grandchildren; several sisters-in-law and brothers-in-law ;and several nieces and nephews.
Relatives and friends called from 5 to 8 p.m. Wednesday, May 8 at the Buranich Funeral Home, 5431 W. Genesee St., Camillus. Services were at 11 a.m. Thursday, May 9 in the Camillus Baptist Church, 21 Genesee St., Camillus with Rev. Barrie-Lyn Foster and Rev. Paul Bailey officiating. Eleanor was laid to rest in Maplewood Cemetery, Camillus. In lieu of flowers, contributions may be made in Eleanor's name to Westar Federal Credit Union, 2565 Hambletonian Way, Camillus, NY 13031. Share online condolences at BuranichFuneralHome.com.