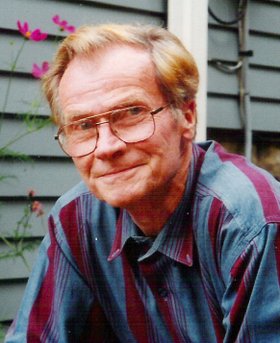 Thomas S. Kasberger
unknown - May 6, 2013
Thomas S. (Tom) Kasberger, 86 of Punta Gorda, Fla., passed away on Monday, May 6, 2013, from complications of Parkinson's disease.
He was born to the late John (Jack) and Lucy (nee Moran) Kasberger on Oct. 24, 1926. After graduating from Syracuse University, Tom proudly served in the U.S. Navy, Pacific Fleet during WWII.
Later Tom had a very long and successful career in the development and sales of the first Xerox large volume copiers and went on to sell thousands of duplication devices until he retired at 72.
Tom was an active & devoted member of Sacred Heart Catholic Church in Punta Gorda, Fla. In addition to his strong love of faith and family, Tom was an avid historian, enjoyed reading, loved to write and had a sly sense of humor with a whimsical grin that made everyone around him smile.
Tom will be greatly missed and is survived by his beloved wife & best friend, Nancy; faithful companion Max; two sons, John S. (Vera) Kasberger IV of Cottage Grove, OR; and Mark (Jeanette) Kasberger of Rolling Meadows, IL; daughter, Karyn (Victor) Vasquez of Elgin, IL; two step sons, Ken Jaquith of Falmouth, MA; and Scott (Laura) Jaquith of Syracuse, NY; step daughter Amy [Carter] Challen of Port Charlotte, Fla.; 10 grandchildren and 12 great-grandchildren.
He was preceded in death by a brother John (Jack) S. Kasberger III, and sister Mary Kay Kasberger.
For a guest book, please visit online: scheppfamily.com.
In lieu of flowers, memorial contributions may be made in his name to the National Parkinson Foundation – parkinson.org.