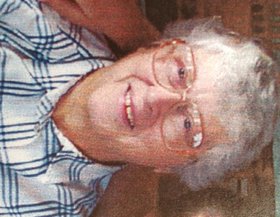 Jean M. Hartman
unknown - May 2, 2013
Jean M. Hartman passed away on Thursday, May 2, 2013, at the age of 91. She was the fourth of five siblings born to parents Albert and Anna (Clute) McAllister in Saratoga Springs, N.Y. The last remaining member of her family, Jean was predeceased by brothers Ford, Norm, James, and Robert. She grew up in the Saratoga area, where she excelled in scholarship and shared her love for music by singing throughout high school and beyond.
Jean graduated from the State Teacher's College at Albany in 1943. During wartime, she moved to Pittsfield, MA, taking a job at General Electric. There she met her husband and lifelong partner, David. They were married in September of 1945, beginning their new life by attending graduate school together. She earned her master's degree in mathematics and biostatistics at the University of Minnesota, where she also taught several courses.
The family moved to the Fayetteville-Manlius area, where they were actively involved in their church and community. Jean spent many years serving on various civic boards and singing with the church choir. She taught mathematics for 17 years in the Jamesville-Dewitt Central School District.
Jean is survived by her loving husband of 67 years, David, sons Eric, Jon (Mary) and Peter (Rose), and four grandchildren, Rebecca, Sarah, Molly and Michael, and several nieces and nephews.
Private prayer services were held for family. Memorial service: 1 p.m. May 18 at the United Church of Fayetteville, 310 E. Genesee St. Fayetteville.
For guest book, directions, & florists, please visit online: scheppfamily.com. In lieu of flowers, contributions may be made to the United Church of Fayetteville, 310 E. Genesee St., Fayetteville, NY 13066.