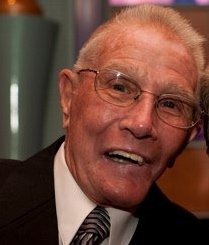 Bill Gregory
unknown - April 22, 2013
Bill Gregory was born Feb. 3, 1933, in Syracuse. He died April 22, 2013, in Mesa, AZ. He lived in Skaneateles all his life. He graduated from Skaneateles High School in 1951 and then attended Syracuse University. He was a member of Sigma Phi Epsilon fraternity, a cheerleader and a member of the rowing team. He graduated in 1955 with a degree in Business Administration.
Bill married his college sweetheart Bayne Chase in September of that year. They have 3 children, two sons and one daughter. Bill Jr., Heather and Scott.
Bill served his country flying F-86 fighter jets for the Air Force and later retired from the New York Air National Guard as a Brigadier General. He did a tour of duty in Korea, was deployed to Phalsbough, France during the Berlin Crisis, and New Mexico during the Pueblo Incident. Bill also worked for his father at the Gregory Insurance Agency, retiring there as president. He began flying for Mohawk Airlines in 1967 and retired from US Airways as Captain in 1993.
Bill had a passion for giving back to the Skaneateles community. He volunteered as a fireman, served as a member and president of the Junior Chamber of Commerce and served as president for the Skaneateles Library. He was also an avid supporter of the Skaneateles Community Center.
Upon retirement from the airlines, he spent numerous hours building a replica of a 1924 Hackercraft. It won many awards locally and internationally at antique and classic boat shows. He named his boat "My La$t Desire", which has touched 3 generations of Gregory's. It is still being enjoyed to this day by his family. He also enjoyed remote control sailboat racing, downhill snow skiing and was an avid Syracuse University Big Orange fan.
Bill is survived by his wife Bayne, his brothers Jack, his wife Angie, and Rob, his children and their spouses, Bill and Sharon Gregory, Heather and Jim Bodwell, and Scott and Pam Gregory, 5 grandchildren and one great grandchild.
His love and generosity inspired and touched many lives and he will be greatly missed.
Memorial service: 10 a.m. Saturday, May 25, at the St. James Episcopal Church, 96 E. Genesee St., Skaneateles, with a receiving line and light refreshments following the service. Contributions may be made in his honor to the Skaneateles Fire Department, the Skaneateles Historical Society, the Skaneateles Library, or the St. James Episcopal Church. To send condolences visit: robertdgrayfuneralhome.com.