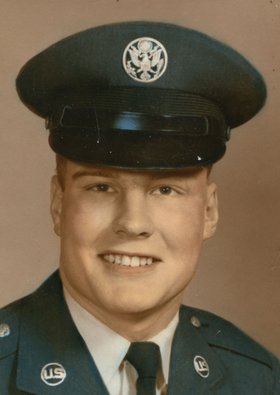 Wayne Tullar
unknown - April 28, 2013
Wayne Frank Tullar, 67, entered into heaven on Sunday, April 28, 2013, at home after a long illness with his loving family by his side. He was born on Dec. 16, 1945, the oldest son of Frank H. Tullar and Grace Marie Miller Tullar in La Junta, Colo. Wayne was a graduate of North Syracuse High School, class of 1964. He joined the Air Force in July 1964 and served until July 1968 at bases in Texas, Arkansas, Guam and Puerto Rico. While in Arkansas, he attended Arkansas State College. He was also a member of the Honor Guard for the Air Force in both Arkansas and Puerto Rico where he escorted Sam Houston Johnson and Lucy Baines Johnson when they came to Ramey AFB with then-President Lyndon Johnson. Wayne also attended Onondaga Community College.
Wayne retired from Deluxe Checkprinters as a quality control specialist in March 1998 after 28 years of service. He then began his second career as a rider for Niagara Mohawk/National Grid and retired from there in April 2008.
Wayne married his best friend, Saragrace "Sally" Tomeny on April 29, 1967. They were blessed with two wonderful daughters and three beautiful grandchildren.
Wayne was a former coach of girls' softball in the Cicero Little League and coached a girls' traveling team for many years. He was also a member of Harvey J. Spire American Legion Post No. 787. Wayne's passions were model airplanes and trains. He was a member of the Mid York Model Airplane Club, a founding member of the Salt City N-Gauge Club and a member of CNY Large Scale Railroad Society. Wayne had a garden railroad in his backyard of which he was incredibly proud. He had a keen interest in genealogy and also enjoyed watching his grandchildren's many activities. Wayne and his family are members of the Episcopal Church of St. Mark the Evangelist in Syracuse.
Wayne was predeceased by his father, Frank, in May 1988.
He is survived by his wife of 46 years, Sally; his daughters and son-in-law, Teri and Kevin Lawless of Phoenix and their children: Jacob and Brigid; his daughter, Wendy Ashkar of Denver, CO, and her son, Holden. He is also survived by his mother, Grace; his brothers: Larry (Jeanne) of Amityville, N.Y. and Mark (Colleen) of Clay; a sister, Annette Wisniewski of Syracuse; several nieces, nephews, aunts, uncles, and cousins; and his beloved dog, Lilly.
In lieu of flowers, contributions may be made to the Church of St. Mark the Evangelist, 1612 West Genesee St., Syracuse, NY 13204, the Clay Volunteer Fire Dept., 4383 Route 31, Clay, NY 13041 or to N.A.V.A.C., PO Box 215, N. Syracuse, NY 13212.
The family would like to thank Dr. William Berkery, Dr. Benny Wong, Lexy Zimmerman and the staff at Hematology-Oncology of Central New York, Dr. Matthew Chaffin, Dr. Hasson Shukri, Darren Flaherty-Thompson, Dr. Paolo Pastore, the staff of 4North and 4South at Crouse Hospital and Team 4 from St. Joseph's Home Health Care for their professional and compassionate care during Wayne's illness.
Calling hours: 4 to 8 p.m. Friday, May 3, at Krueger Funeral Home, 2619 Brewerton Road, Mattydale. Funeral services: 2 p.m. Saturday, May 4, at St. Mark the Evangelist Church. Burial with Military Honors will be in Pine Plains Cemetery, Clay.