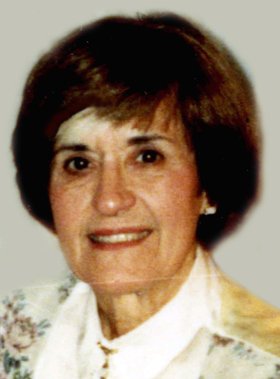 Virginia Belvito
unknown - April 21, 2013
Virginia Rosemary Belvito, 90, of Marcellus, was called into the arms of the Lord Sunday, April 21, 2013 at Van Duyn Home & Hospital. Born in Syracuse on Sunday, Sept. 3, 1922, she was a graduate of North High School and moved her family to Marcellus in the early '60s.
Virginia, along with her husband, Angelo, owned and operated Patrick's Dry Cleaners for over 40 years until it sold in 1989. A communicant of St. Joseph's Church, she volunteered with the funeral luncheons, jail ministry, and Unity Kitchen. She loved spending time with her family, especially her grandchildren, and also enjoyed gardening and theater.
Virginia was predeceased by her husband, Angelo Belvito, in 1985; parents, Anthony and Rosemary (Ferry) DeBottis; and brothers, Francis, Robert and Richard DeBottis.
Surviving are her daughter, Lisa (Henry Newman) Belvito of St. Paul, Minnesota; sons, Michael Belvito of Syracuse and Richard (Tess) Belvito of Camillus; grandchildren, Joe, Colin, Derek, AJ and Madison; great-grandson, Cameron; and several nieces and nephews.
There were no calling hours. Rev. Peter Worn and Rev. John DeLorenzo celebrated a funeral Mass Thursday, April 25 at 9:30 a.m. in St. Joseph's Church. Virginia was laid to rest in Assumption Cemetery. In lieu of flowers, contributions may be made to Camillus Ridge Terrace, c/o Jason Santiago, 2453 W. Genesee St., Camillus, NY 13031. Please share condolences at buranichfuneralhome.com.