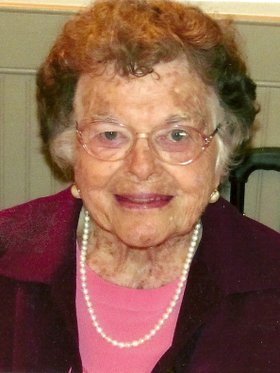 June Vernon
unknown - April 27, 2013
June Rothchild Vernon, 95, of Bridgewater died Saturday, April 27, 2013, in her home in Bridgewater Retirement Village. She was born in St. Paul, MN, on June 19, 1917, to the late Kennon and Irene Harlan Rothchild, and was preceded in death by her husband of 50 years, Victor Vernon, Jr.; her brother, Thomas Harlan Rothchild; her grandson, Wynn Rossiter McNeill; and son-in-law, John W. McNeill. She lived many places in the mid-west and east moving from Baldwinsville, N.Y. to Lynchburg, VA, where she lived for thirty years. She moved to Harrisonburg in 1988 after her husband's death. She moved to the Bridgewater Retirement Village in 1994.
Her interests were varied. She was a homemaker who enjoyed volunteering at Family Services and the Fine Arts Center in Lynchburg, and for Rockingham Memorial Hospital Hospice in Harrisonburg, VA and the Bridgewater Retirement Community in Bridgewater, VA. She also loved playing bridge with her friends.
She is survived by daughter, Stephanie McNeill of Maysville, KY; son, Victor Vernon III and wife Susan, Stuarts Draft, VA; daughter Charlotte McNulty Kagey and husband Bill, Roanoke, VA; and daughter Ginny Straub and husband Rudy, Hilton head, SC. She is also survived by her brother Kennon Rothchild and wife Nina, Mahtomedi, MN, and brother Lee McGovern, Iowa City, IA. She has nine surviving grandchildren and 17 great-grandchildren.A memorial service was held in Lantz Chapel, Homeview Drive, Bridgewater Retirement Village at 11 a.m. Thursday, May 2., with lunch to follow.
Family received friends 5 to 7 p.m. Wednesday, May 1, at Lantz Chapel.
In lieu of flowers memorial contributions can be made to Resident Care Endowment Fund, Bridgewater retirement Community, 302 North Second St, Bridgewater, VA 22812.