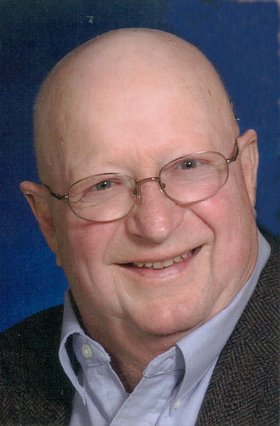 John Lansing
unknown - April 18, 2013
John Thomas Lansing passed away April 18, 2013 at Lawnwood Hospital in Fort Pierce Florida at the age of 73, following a courageous battle with cancer.
John is predeceased by his parents, Gladys and Cornelius Lansing. John is survived by his loving wife of nearly 52 years of marriage, Mary Ann (Rao) Lansing. John and Mary Ann were married at Blessed Sacrament Church in Syracuse on Sept. 16, 1961.
John is lovingly remembered by his wife, Mary Ann and children: Susan Lansing (spouse of Gustavo de la Roza of Syracuse); John Lansing, Jr. (of Ponca City, OK); Catherine Lansing-Carlson (of Geneva, N.Y.); and Joseph Lansing (spouse of Torrey Lansing of Cazenovia). John's grandchildren, whom he loved to spend time with, include: Anthony de la Roza, Tamika de la Roza, Tamirah de la Roza, Jack Carlson, Bradley Carlson, Alex Lansing, Abby Lansing, and Adam John Lansing. John is also survived by his brother, Ross Lansing and several nieces and nephews.
John was born in Syracuse on May 13, 1939. John graduated from Eastwood High School – class of 1957. He worked at General Motors in Syracuse as a tool and die maker and retired after 32 years of service.
John and Mary Ann lived at their farmhouse, which they had built, in Erieville. They often spent time during the summer at their cottage on Grass Lake and wintered in warm and sunny Fort Pierce, Fla.
John served in the United States Army Reserves for eight years and was a member of the American Legion Post 88, he was a member of Saint James Catholic Church, a member of the Willow Bank Yacht Club, served as a volunteer with the Cazenovia Volunteer Ambulance Corp. (CAVAC), a member of the Cazenovia Preservation Foundation, a member of the McCavanaugh Pond Club Association, the Grass Lake Association/Konserv-it, Inc., and the Tuscarora Lake Association.
A memorial mass for family and friends will be held at 10:30 a.m. on Saturday, June 1, at Saint James Catholic Church – located at 6 Green St. in Cazenovia. The service will be followed by a reception for all, in the church hall.
A scholarship fund for a Cazenovia High School graduate, pursuing a career in machine mechanics, will be established in memory of John Lansing and given each year at graduation. To extend an online condolence please visit taitfuneralhome.com.