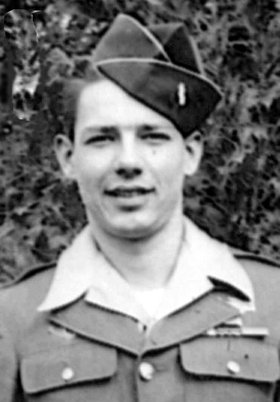 George A. Mason, Jr.
unknown - April 25, 2013
George A. Mason, Jr., 88, of Onondaga Hill, passed away Thursday, April 25, 2013 at home, surrounded by his loving family. Born in Niagara Falls on Saturday, April 26, 1924, he was the son of George Albert and Anna (Bailey) Mason Sr. He lived in Syracuse since 2003.
George was a graduate of Niagara Falls High School. An Army veteran of WWII, he was a recipient of the Purple Heart. In 1984, he retired from Occidental Petroleum Corp. after more than 35 years.
George was a member of Bacon Memorial Presbyterian Church in Niagara Falls. His interests included woodworking, especially making birdhouses, the Yankees, Nascar, and SU basketball. He also enjoyed spending time with his family, especially his grandchildren and great-grandchildren.
George was predeceased by his wife, the former Irene Gordon, in 2002; grandson, Noah Wiley, in 1997; and sisters, Helen Counts and Dorothy Fleury.
Surviving are his daughters and sons-in-law, Kelly and Brad Wiley of Onondaga Hill, Kathie and Stephen Hunt of Johnson City, Tennessee and Terri and Doug Wright of Niagara Falls; son, Scott Mason of Syracuse; sisters and brother-in-law, Beverly Beenau of Great Falls, Montana and Shirley and David Zimmerman of Florida; brothers and sister-in-law, William and Gail Mason of Rochester and Thomas Mason of Niagara Falls; grandchildren, Jamie, Bradley and Luke Wiley, Nikki and Jimmie Hunt, Colin, Michael, Christopher and Ryan Mason, Sara and Amber Wright; great-grandchildren, Morgan and Jackson Mason; niece, Janet Beenau of Sanborn; many nieces and nephews; and extended family and friends in Syracuse.
There were no calling hours. Rev. Michael Grinnals officiated a memorial service Tuesday, April 30 at 11 a.m. at the Buranich Funeral Home, 5431 W. Genesee St., Camillus. George was laid to rest at Acacia Park & Resthaven Memorial Garden in North Tonawanda. In lieu of flowers, contributions may be made to Hospice of CNY, 990 Seventh North St., Liverpool, NY 13088; American Lung Assn. of New York, 1595 Elmwood Ave., Rochester, NY 14620; or to American Cancer Society, 6725 Lyons St., P.O. Box 7, East Syracuse, NY 13057. Please share condolences at buranichfuneralhome.com.