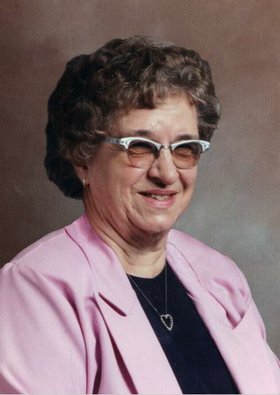 Florine LaPointe
unknown - April 24, 2013
Florine Rose Shattell LaPointe, 93, of North Syracuse died Wednesday, April 24, 2013, in Arlington, Texas with her children at her side. A native of Fulton, she was a fingerprint specialist with the FBI during WWII. Later, she worked in the credit department of various local businesses.
In addition to her career, Mrs. LaPointe was a family historian and genealogist, a Girl Scout and Cub Scout Leader and outdoor skills trainer, as well as a recipient of the Diocese of Syracuse, St. Anne Award. As a fur tailor and seamstress, Mrs. LaPointe made many dance costumes. She also crocheted a great number of beloved treasures like doll clothes, blankets, dollies, snowflakes and table clothes.
Mrs. LaPointe and her husband were square dancers who loved to travel. During their 65 years together, they visited 48 states, missing only Utah and Alaska along the way. She was also an avid reader and political enthusiast who loved country music, particularly the recordings of Dolly Parton.
Mrs. LaPointe was the loving wife of her husband, Emile Joseph Audet LaPointe, Jr. Also, she was preceded in death by him and her son, Edmond Joseph LaPointe.
Surviving are her children, Emile J. (Susan) LaPointe, III, Diana J. Ledyard and Denise J. (James) Washington; a brother, Robert Shattell; a sister, Marjorie Burke; eleven grandchildren; thirteen great grandchildren and numerous nieces and nephews.
Services: 9:30 a.m. on Monday, May 6, at Fergerson Funeral Home with mass of Christian burial at 10 a.m. at St. Rose of Lima Church followed by burial in St. Mary's Cemetery, DeWitt. Calling hours: 2 to 5 p.m. Sunday, May 5, at the funeral home, 215 South Main St., North Syracuse.
Donations may be made, in lieu of flowers, to Community Hospice of Texas, Inpatient Services at Arlington Memorial, 6100 Western Place, Suite 105, Fort Worth, Texas 76107. Memorial messages may be left at FergersonFuneralHome.com.