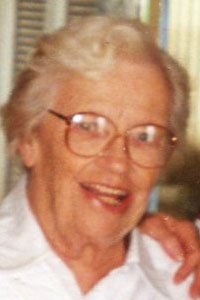 Barbara Meier
unknown - April 27, 2013
Barbara Meier, 85, of Cicero, passed away peacefully on Saturday, April 27, 2013, at Loretto in Syracuse. Originally from North Syracuse, Barbara worked in admission at University Hospital for many years. She also worked at Nationwide Insurance as a claims processor until retirement. Barbara was a very devoted wife and mother who loved her family and dedicated her time to raising her children and grandchildren.
Barbara was predeceased by her husband, E. Kent Meier, in 2004 and by a brother, Gilbert Bassett.
Surviving are her children: Kathy Eighmey of Bridgeport, Eric of Jamesville and Karl of TX; a sister, Nancy Perry of TN; her six grandchildren: Frank, Zachary, Matthew, Mitchell, Jordan, and Cole; and a great grandson, Carmine Eighmey.
All services will be held privately and at the convenience of Barbara's family as per her wishes. Burial will be in North Syracuse Cemetery.