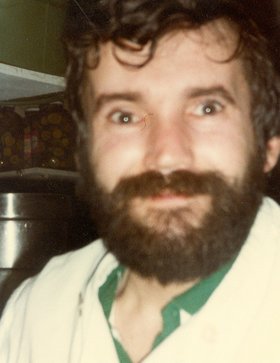 James K. Corbett
unknown - March 27, 2013
James K. "Bones" Corbett, 64, of Fayetteville, passed away peacefully March 27, 2013, with his family by his side, joining his loving mother in heaven. Jim was a graduate of Fayetteville-Manlius High School and worked as a cook at area restaurants including What's Your Beef and Hullars. He was a member of Immaculate Conception Church; a Boy Scout, an avid reader; and enjoyed dirt bikes, motorcycles, gardening and spending time with his family.
He was predeceased by his parents, Cornelius and Gertrude Corbett and his sister, Maureen Buschatzke.
He is survived by his siblings Cornelia Corbett (John), Brian (Kathy), John, Timothy (Alexis), Kathleen Kahley (David), Erin Grabowski (Ned), and Theresa Simmons (Dennis); nieces and nephews, Kiernan, Kasey, David, Candice, Bryan, Zachary, Donnie, Samantha, Adam, Tessa, Damian and Robert; and great-nieces and nephews, Ericka, Lillian, Graham, Roric, Wesley, Jaden and Teagan; aunt, Shirley (Roger) Dunteman and uncle, Francis (Donna) Farrell.
Services: 12:15 p.m. Tuesday, April 2, at Eaton-Tubbs Fayetteville Chapel and 1 p.m. at Immaculate Conception Church, 400 Salt Springs St., Fayetteville. Burial will be in Immaculate Conception Cemetery, Fayetteville. Calling hours: 4 to 7 p.m. Monday, April 1, at the funeral home, 7191 E. Genesee St., Fayetteville. Contributions: may be made to St. Camillus Health & Rehabilitation Center, BTI Unit, 813 Fay Rd., Syracuse, NY 13219.