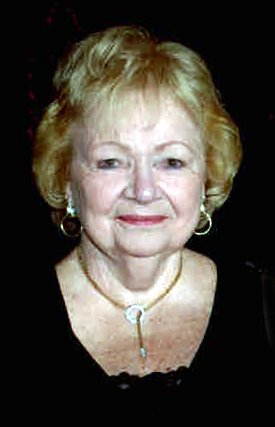 Mary L. Varese
unknown - March 24, 2013
Mary L. Varese, 80, of Jamesville, passed away Sunday, March 24, 2013 at Crouse Hospital. Born in Huntington, N.Y., on Friday, Sept. 16, 1932, she was the daughter of the late John B. and Edith M. (Bennert) Blydenburgh, and stepmother, Laverne Mae, who cared for her after her mother's passing when she was three. She lived in the Central New York area since 1980 and moved to Jamesville in 2010.
A registered nurse, Mary retired in 1991 after 11 years with Crouse Hospital and previously worked with Marshall University Pharmaceutical Research in West Virginia. She was also a Psychiatric nurse at Veterans Hospital in Northport, New York and Highland Drive in Pittsburgh, Pennsylvania. She was a member of St. Paul's United Methodist Church in Northport, New York and enjoyed knitting, quilting and was an avid Steelers fan.
Mary was predeceased by her grandchildren, Jessica Brawdy and Charles "Chuck" Varese.
Surviving are her husband of 40 years, Robert Joseph Varese; children, Brian (Ashley) Brawdy of Syracuse, Janice Brawdy of Fayetteville, North Carolina, Barth (Sara) Brawdy of West Monroe, Brett (Teri) Brawdy of Piedmont, South Carolina, John (Wendy) Brawdy of Fayetteville, North Carolina, Joann (Charles) Dawson of Albany, Robert (Jeanne) Varese of Northport, Suzann (Wayne) French of Gilbert, Arizona, James (Leighann) Varese of Centerport, Donna Iamascia of Northport, and Scott Varese of Gilbert, Arizona; 24 grandchildren; and six great-grandchildren.
Relatives and friends called from 4 to 7 p.m. Wednesday, March 27, at the Buranich Funeral Home, 5431 W. Genesee St., Camillus. Funeral services were at 11:30 a.m. Thursday, March 28, in Pompey Community Church, 2555 Berwyn Rd., LaFayette with Rev. Wendell Pfohl officiating. Burial was private. Contributions may be made in Mary's name to the Outdoor Dream Foundation, P.O. Box 802, Anderson, SC 29622. Please view the Varese Family Video Tribute and share condolences at buranichfuneralhome.com.