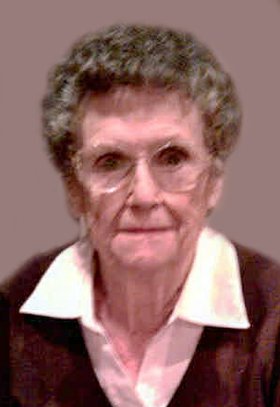 Mary Ann Sofinski
unknown - March 23, 2013
Mary Ann Behm Sofinski, 87, of Camillus, passed away Saturday, March 23, 2013, at Sunnyside Care Center. Born in Syracuse on Tuesday, Aug. 11, 1925, she lived in Camillus for more than 30 years. She was a graduate of Onondaga Valley Academy and employed by General Electric Co. for 41 years, retiring in 1985.
Mary Ann was a communicant of St. Joseph's Church, member of the Altar & Rosary Society, and volunteer with the funeral luncheon committee. She was also a member of the Camillus Senior Citizens and former volunteer at Community-General Hospital for 10 years.
Mary Ann was predeceased by her, husband, Walter; parents, Helen and Francis Behm; and sister, Jackie Birchler.
Surviving are her sister, Joan O'Connor of Syracuse; 20 nieces and nephews; many great-nieces and great-nephews; and many great-great-nieces and great-great-nephews.
Relatives and friends called from 9 to 11 a.m. Wednesday, March 27, at the Buranich Funeral Home, 5431 W. Genesee St., Camillus. Services followed at 11 a.m. at the funeral home and at 11:30 a.m. in St. Joseph's Church where Rev. Peter Worn celebrated a funeral Mass. Mary Ann was laid to rest in St. Mary's Cemetery, DeWitt. Please share condolences at buranichfuneralhome.com.