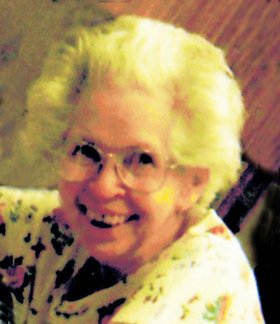 Lynda R. Brown
unknown - March 27, 2013
Lynda R. Brown, 83, passed away peacefully on Wednesday, March 27, 2013 after a lengthy illness. Lynda was raised in Scio, Ohio, the oldest daughter of the late Hugh and Thelma Thorne. She met her future husband at the University of Cincinnati. Lynda retired as a RN from Upstate Medical Center, later spending many years of shared happiness with her husband and dogs in sunny, warm Florida. She enjoyed gardening, antiquing, crossword puzzles, reading and baking. Mom guarded her recipes over the years, reluctantly sharing handed down family recipes later in life. She was extremely private with respect to the life she shared with her family and savior. Lynda raised a family of eight children that entitled her to coin the term "Taxi Mom" before her time. What rich stories she could share regarding the multitude of pets, injuries, sporting events, school concerts, sibling rivalry and adolescence anguish all layered with laughter.
Lynda is survived by her beloved husband of 62 years, Carroll R. Brown, as well as her children; Carroll (Ann Young) Brown, Kristine (Mark) Culotti, Hugh (Kelly) Brown, Victor (Merry Christine) Brown, Dana Robinson, David (Laraine Rapple) Brown, Christopher Marc Brown, and Jon Brown. She had 15 grandchildren and nine great-grandchildren. Lynda was preceded in death by her firstborn infant daughter, Mary, and older brother, Hugh Thorne. She is also survived by her sisters, Sonya (Hank) Eckhardt, Leticia Owens, Gayla Pearson, and Diane (Michael) Roberts. Lynda leaves behind many nieces and nephews.
The family would like to thank Hospice, Lyn and Sarah for making Lynda comfortable under their care.
Services will be private and at the discretion of the family. The family asks that memorial contributions be donated to Sloan-Kettering Cancer Center, mskcc.org. Memorial messages may be left at FergersonFuneralHome.com.