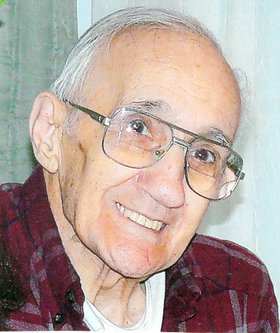 Joseph R. Tripoli, Sr.
unknown - March 16, 2013
Joseph R. Tripoli, Sr., 90, went home to Heaven on March 16, 2013, after a brief illness. Joe was born in Syracuse and was the eldest son of Salvatore and Frances (Scarcella) Tripoli. Joseph was predeceased by his wife of 62 years, Mary, on Dec. 20, 2010, and his grandson, Jason M. Tripoli, on April 22, 1999.
On Nov. 16, 1940, at the age of 17, Joe was the New York State Section 3 Cross Country Sectional Champion for the fastest time. Upon turning 18 Joe enlisted in the U.S. Army Air Corp. (USAF today) and served his country during WWII. After being honorably discharged Joe returned home to Syracuse where he met and married the love of his life, Mary. They married in 1949 and started their family.
Joe worked for New York Central Railroad, drove truck delivering supplies across the state for many years while working on becoming an entrepreneur himself. In 1949 Joe started his first company, Community Rubbish Removal which provided residential trash removal. By 1979 Joe and Mary also owned and operated Onondaga Environmental Services and Onondaga Landfill Systems. In 1986 after 37 long, hard and faithful years of service to his beloved community, Mary and Joe retired.
Joe loved to travel and made several trips to Italy and Europe. He and Mary also traveled to China, Australia and Hawaii as well as all across the United States. Joe loved to play golf and bowl, which he was on several teams. He was very active in the St. Matthew's Church as a server, fundraisers and donating. He was a member of the Lion's Club serving as President, the Knights of Columbus, Pop Warner and baseball little league. He was an avid sports fan which included his beloved NY Yankees and SU athletics. Joe's favorite pastime after retirement was spending time with his grandchildren.
In 1999 on Joe's 75th birthday, he was diagnosed with Non-Hodgkin's Lymphoma Stage IV. He was given only three months to live. Joe never gave up. He made small goals and accomplished each and every milestone he set his mind too! He was not going to let this cancer beat him. This year on his 90th birthday, Joe became a 15-year cancer survivor. He has been an inspiration to all the patients and staff at the ROC where he will be deeply missed. Friday's at the ROC will never be quite the same again!
Joe is survived by his daughters Patti (Bill) Murray, Denise (Larry) Mathews and Chrissie (Steve) Rosso; his sons Joseph Jr. (Cindy) and Jim (Marcy); his 14 grandchildren, Joslyn (Matt) Cassano, Brian (Jenna) Matthews, Jessica (Heath) Breedlove, Sara (Mike) Thompson, Joseph (Lauren) Tripoli, Janelle Tripoli, Erik (Brittany) Schroder, Stefan Schroder, Christopher, Tyler, Andrew, Conner and Madison Rosso and eight great-grandchildren.
Funeral services: 11 a.m. April 5 at St. Matthews Church, East Syracuse with Father Joseph Clemente officiating. The burial will be private and at the convenience of the family. Calling hours: from 4 to 7 p.m. on Thursday, April 4, at Eaton-Tubbs Fayetteville Chapel, 7191 East Genesee St., Fayetteville.
In lieu of flowers, memorial donations may be made to Hospice of CNY, 990 Seventh North Street, Syracuse, NY 13088 or the Regional Oncology Center at Upstate Medical University Hospital, 750 East Adams Street, Syracuse, New York 13210. Arrangements by Eaton-Tubbs Fayetteville Chapel of Schepp Family Funeral Homes.