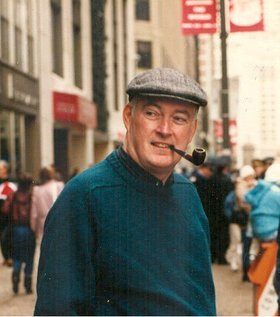 John Dougherty
unknown - March 25, 2013
John Patrick Dougherty, 77, of Manlius, passed away unexpectedly and peacefully at home on Monday, March 25, 2013. John was born in Tonawanda on Dec. 13, 1935, the son of the late Lawrence and Loyola O'Hagan Dougherty. John enjoyed a long career as a mechanical engineer, and in recent years remained active as a design consultant. He was a 40-year member of Immaculate Conception parish in Fayetteville. John was an avid reader who spent his free time traveling, golfing and camping with his children and grandchildren. Most of all, he took great pride in his Irish heritage, embodied by his large and extended loving family.
John is survived by his wife of 52 years, Margaret Ryan Dougherty; his three daughters, Kathleen (James) Muldoon of Manlius, Colleen (Jeff) Clabault of Sandwich, MA and Deborah (Will) Wester of Cazenovia; his son, Timothy Patrick of Seattle, WA; his grandchildren, Conor, Megan and Emily Muldoon, Benjamin and Caroline Clabault and Gordon and Eleanor Wester; his siblings, Dennis (Eileen) Dougherty, James (Shirley) Dougherty, Mary (Joseph) Elias and Lawrence (Mary) Dougherty; and many nieces, nephews and cousins.
Funeral mass: 10 a.m. Tuesday, April 2, at Immaculate Conception Church, 400 Salt Springs St., Fayetteville. Burial will be in St. James Cemetery, Cazenovia. Calling hours: 4 to 7 p.m. on Monday, April 1, at Newell-Fay Manlius Chapel, 8171 Cazenovia Road, Manlius. Contributions: may be made to Kohls Autism Outreach Program, 215 Bassett St., Syracuse, NY 13210. Arrangements by Newell-Fay Manlius Chapel of Schepp Family Funeral Homes.