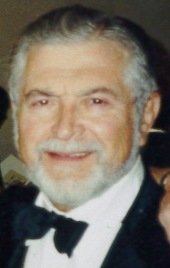 Frank Bersani, Sr. M.D.
July 30, 1927 - March 17, 2013
Frank A Bersani, Sr. MD, passed away peacefully at home surrounded by his family on March 17, 2013. Frank's was a life of service to others. He was born in St. Joseph's Hospital on July 30, 1927 and graduated from Our Lady of Pompei and Christian Brothers Academy. At CBA he was a member of the boxing and football teams and wrote for the school newspaper. His work ethic was shaped by many hours as a waiter at Bersani's Family Restaurant.
Inspired by his good friend Frank Caliva, he chose a career in medicine. Frank completed his entire pre medical and medical studies at Syracuse University in just five years and became an MD at age 21. He served in the Navy during the Korean War as a Medical Officer and was discharged with the rank of Lieutenant. He then completed his Orthopedic Surgery residency at Colombia Presbyterian Hospital in New York City.
Frank had a private practice of orthopedic surgery in Syracuse from 1957 to 1993. He served as head of the orthopedic section of St. Joseph's Hospital for many of those years. Frank was a clinical professor of orthopedic surgery at Upstate Medical University and participated in the training of many residents and published clinical research. In his later years he was employed as a consultant at the Medical Liability Mutual Insurance Company and Pomco.
Frank held many offices in various medical societies and associations. He was the president of the New York Society of Orthopedic Surgeons, the president of the Alumni of the Colombia Presbyterian Orthopedic Society and Councilor of the American Academy of Orthopedic Surgeons. Frank was a fellow of the American College of Surgeons. He was a member of the Orthopedic and Sports Medicine Society and the Orthopedic Foot Society. Frank was a member of the Onondaga County and New York State Medical Societies and the American Medical Association. He served in many capacities in many of these organizations.
Frank was a loyal CBA alumnus. He served on the board of trustees for many years and was elected to the CBA Purple and Gold Society in 2005, and his six sons all attended there. Frank also served on the board of trustees for St. Camillus Health Center.
Frank was the loving husband of Margaret "Peggy" Gleason for 60 years. He enjoyed skiing all around the Northeast and was a member of Skaneateles Country Club. Frank spent many hours enjoying golf and social activity there. The sound of a golf cart with Italian Opera coming from it was a sure sign Frank was on the course.
His zest for life, sense of humor and compassion for friends was well known and will be missed by all. He was especially proud of his six sons, six daughters-in-law and his 17 grandchildren. He is predeceased by Frank, Jr., Esq (Kathleen) of Syracuse, and survived by Michael, Esq (Alejandra) of Geneva, NY, Dr. Thomas (Joan) of Skaneateles, NY, Matthew Esq (Molly) of Hong Kong, Stephen (Jennie) of Auburn, NY and Dr. Christopher (Cynthia) of Westborough, MA.
Frank had five siblings. Three brothers predeceased him, Armand (Rosemary), Judge Leonard (Maria) and Eugene (Rosalyn). Two sisters survive; Sandra Wood and Gilda Falco.
A funeral mass in celebration of Frank's life was held on March 21 in Our Lady of Pompei/St. Peter Church, 301 Ash St., Syracuse. Private burial is in St. Mary's of the Lake Cemetery, Skaneateles. Calling hours were held at the Thomas J. Pirro Funeral Home, 3401 Vickery Road (corner of Buckley Road) North Syracuse on March 20.
Memorial contributions may be made to Christian Brothers Academy, 6245 Randall Road, Syracuse, NY 13214.