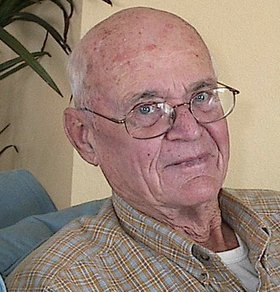 Ronald Lucas
unknown - March 21, 2013
Ronald "Ron" Lucas passed away Thursday, March 21, 2013, peacefully at home with his family. He was born May 8, 1928, to J. Claude and Elizabeth Hampton Lucas of Cazenovia. Ron was predeceased by his loving wife of 60 years Doris Shawl Lucas, who passed away on Jan. 21, 2012. He was the third generation co-owner of J.C. Lucas and Sons with his brother, William. He celebrated the business' 100 year anniversary of serving the agricultural community in 1991 with his sons, Bob and Jim, who continue the family business today as Empire Tractor. Ron and Doris enjoyed traveling the world and hosting family holidays, gatherings and many of their class reunions.
He is survived by his daughters, Nancy (Dick) Caldwell of North Carolina and Cindy (Chick) Quattrini of Liverpool; his sons Robert (Susie) Lucas and James (Denise) Lucas, both of Cazenovia; eight grandchildren and three great-granddaughters.
Services will be private. In lieu of flowers, donations may be made to the Cazenovia United Methodist Church, CAVAC, Hospice of CNY or to a charity of your choice. To send the family an online condolence, please visit taitfuneralhome.com.