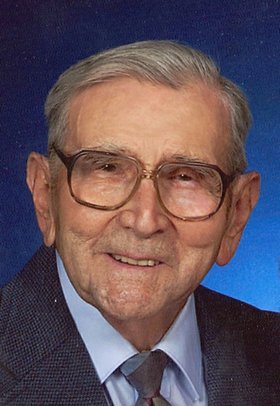 Robert H. Clos
unknown - March 17, 2013
Robert H. Clos, 99, of Camillus, passed away Sunday, March 17, 2013, at home. Born in Syracuse on Wednesday, Dec. 31, 1913, he was a lifetime resident of the Syracuse/Camillus area. Robert was formerly employed by Workman Motors and was co-owner of City Service Gas Station for more than 20 years.
Robert was a member of the Pastime Club and Camillus Senior Citizens. A member of the Antique Car Club, he proudly owned a 1931 Ford Model A.
Robert was predeceased by his parents, Barbara and Abraham Clos; sisters, Margaret Grundar and Ruth Groesbeck; and brothers, Herman, George, Edward, William and Carl Clos.
Surviving are his wife of 74 years, the former Jean Strowbridge; daughters and son-in-law, Carol Greis of Camillus, and Suzanne and Kenneth Kazel of Camillus; son and daughter-in-law, Robert W. and Ruth Clos of Pittson, Pennsylvania; brother, Walter Clos of Cicero; 15 grandchildren; 32 great-grandchildren; and 11 great-great-grandchildren.
Relatives and friends called from 2 to 4 p.m. Wednesday, March 20, at the Buranich Funeral Home, 5431 W. Genesee St., Camillus. Services were at 1 p.m. Thursday, March 21, in St. Mark the Evangelist Episcopal Church, Syracuse, with Rev. Adrian Amaya officiating. Robert was laid to rest in Greenlawn Cemetery, Warners. In lieu of flowers, contributions may be made to St. Mark the Evangelist Episcopal Church, 1612 W. Genesee St., Syracuse, NY 13204. Please share condolences at buranichfuneralhome.com.