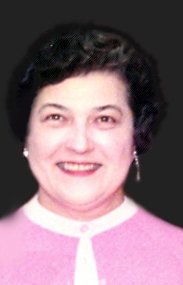 Sally A. Prusinowski
unknown - March 10, 2013
Sally A. Prusinowski, 96, of Syracuse, passed away Sunday, March 10, 2013, at Van Duyn Home & Hospital. Born in Syracuse on Saturday, July 15, 1916, she was the daughter of Thomas and Michaline (Gajewska) Pelkowski.
Sally leaves behind her son, Bill (Pat Burak) Prusinowski of Syracuse; beloved grandchildren, William Carl "Billy" Prusinowski of Santa Cruz, California and Anna Christine Prusinowski of Syracuse; sisters-in-law, Anne Pelkowski of Ocala, Florida and Jane Oriente of Syracuse; and several nieces and nephews.
Sally was a lifelong parishioner of Transfiguration Polish Catholic Church, where she was baptized and married. She lived in Syracuse all her life and above all else, enjoyed caring for her family.
Sally was predeceased by her husband of 68 years, William F. Prusinowski; sister, Lucille; and brothers, Vincent, Carl, and Henry "Babe" Risko Pelkowski, former World Middleweight Boxing Champion.
There were no calling hours.
Mass of Christian burial: 10:30 a.m. Friday, March 15 in Transfiguration Church with Rev. Linus DeSantis officiating. Sally was laid to rest in St. John the Baptist Ukrainian Catholic Cemetery. Arrangements were by the Buranich Funeral Home, Camillus.
Contributions may be made to the Transfiguration Church Improvement Fund, 740 Teall Ave., Syracuse, NY 13206. Please share condolences at buranichfuneralhome.com.