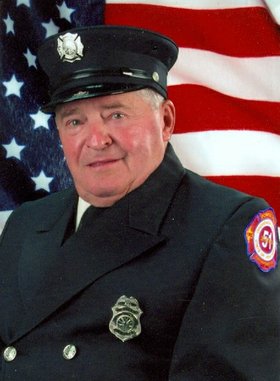 Joseph Curr
unknown - March 17, 2013
Joseph Curr, 88, of Pompey, passed away peacefully March 17, 2013, surrounded by his family. Joe was born in East Syracuse and raised in Pompey. Joe was a hard working gentle man who was the best father to his children and step-children as well. He was a member of the rod and gun club, a 48-year member of the Pompey Lions Club and 67 year charter member of the Pompey Hill Fire Department, CSEA, Fabius Pompey Seniors, Manlius Senior Center, Pompey Historical Society, Farm Bureau, Merging Stars Group of the Order of Eastern Star and Unity Fellowship Group. He was a communicant of Immaculate Conception Church in Pompey.
He was predeceased by his first wife of 20 years, Lucille M. Curr and two sisters, Celia Latocha and Mary Balenske. He is survived by his wife of 37 years, Beverly; his children, Joseph (Colleen) Curr, Louis Curr and Jeanette Skeele; step-children, Randy (Maria) Marris, Mitchell (Deborah) Marris, Roland Marris, Margo Freeman and Darrick (Tracie) Marris; grandchildren, Mitchell Skeele, Carly Smith, Alexander, Joey and Matthew Curr, Katherine, Caroline, Eliza, Stephanie, Alexander, Jordon, Emily and Clare Marris; Ryan and Abigail Freeman; a sister, Dorothy Allen; and close friends, Steve Morzak and Jimmy Patridge.
For a guest book visit scheppfamily.com. Contributions may be made to the Pompey Hill Fire Department, P.O. Box 268, Pompey, NY 13138. Joe will be dearly missed by his family and friends.