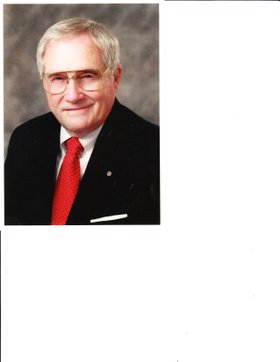 Clarence A. Rycraft, Jr.
unknown - March 9, 2013
Clarence A. "Rye" Rycraft, Jr., 85, of the town of Clay, passed away peacefully with his family at his side on March 9, 2013. He served in the U.S. Navy in WWII, and worked for New York Telephone/NYNEX as an audit manager. Rye was recognized in 2011 for his 25 years of service to the town of Clay in a number of important capacities as a public official.
He was a member of the town of Clay Planning Board from 1987-1991, and the town of Clay Town Board from 1992 to 2011. Rye's long list of volunteer service included the Central New York Regional Planning and Development Board, the Onondaga County Infrastructure Committee, the Syracuse Metropolitan Transportation Council, the Liverpool Optimist Club and the Service Corps of Retire Executives. He was recognized as the Bayberry Community Association Citizen of the Year in 1997. He was also a member of the American Legion, Telephone Pioneers of America and the Liverpool Elks.
Rye earned his bachelor's degree in business-economics from Syracuse University in 1959, a master's degree in public administration from Syracuse University in 1964; an associate's degree in applied sciences from Alfred University and an associate's degree in criminal justice from Onondaga Community College.
He was also an adjunct professor for 25 years at Onondaga Community College, where he taught accounting and management courses. Education was important to Rye, who took college courses for most of his adult life.
He is survived by his wife Catherine (Clarke) Rycraft and four children: Stephen (Lynn) Clark; Susan (Carl) Cook; Patricia (Patrick) O'Toole and Richard (Lisa) Rycraft; eight grandchildren and five great-grandchildren; brother Ronald (Patricia) Rycraft of Jupiter, Fla., and sister Anne O'Brien of New Jersey. He was predeceased by a sister, Donna Landers.
Clarence's family would like to extend a heartfelt 'thank you' to the nursing staff on 1-8 at St. Joseph's Hospital. They are truly angels who provided peace and comfort for our family during the last days of his life. Thank you from the bottom of our hearts. Our family would also like to extend our love and appreciation to John Salomone, Clarence's roommate at St. Joe's, for befriending and taking care of him in our absence.
Public reception to celebrate Rye's life: 5 p.m. Friday March 22, at Meghan MacMurphy's, 7990 Oswego Road, Liverpool.
Public memorial service: at 10 a.m. Saturday, March 23, at Christ the King Roman Catholic Church, 21 Cherry Tree Circle, Liverpool. Rye was laid to rest during a private family ceremony at Our Lady of Peace Roman Catholic Cemetery Mausoleum. Contributions in Clarence's name may be made to the National Kidney Foundation of CNY or the American Diabetes Association. Donations to the National Kidney Foundation of CNY may be mailed to 731 James St., Syracuse, NY 13203 please designate that you would like your donation to go to the local chapter. Donations to the American Diabetes Association may be mailed to 6390 Fly Road, East Syracuse, NY 13057 or visit the organizations website at diabetes.org, where a memorial fund has been set up.