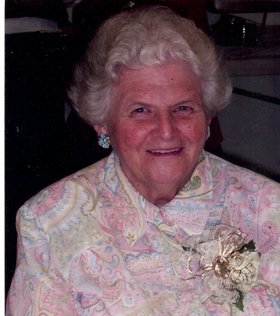 Rev. Betty Jones
unknown - March 2, 2013
Rev. Betty Wyckoff Jones, 83, went to be with her Lord and Savior on March 2, 2013, surrounded by family at her home in Scipio Center, N.Y. Born in East Orange, N.J. in 1929 she married the love of her life David in 1948. Having moved their growing family to Poplar Ridge, N.Y., Betty was instrumental in establishing the Youth Corps and Head Start programs in Cayuga County under the auspices of Peace Incorporated and President Johnson's Economic Opportunities Act of 1964. The Presbytery established a home for the elderly in Auburn in 1962, called Westminster Manor, which became a major focus of her ministries over the years. Betty was ordained as a Presbyterian minister in 1984 following her graduation from Wells College in 1979 and Colgate Rochester Divinity School in 1984. After 15 years of service with these various agencies she was installed as pastor of Pompey United Church where she and David ministered through 1998, also serving as chaplain to the residents of Elmcrest Children's Center on Salt Springs Road in Syracuse. Then she was called to Amboy Belle Isle where she was the pastor for the last 14 years. Betty dedicated her life to the service of others and had tremendous empathy for those less fortunate, the needy, the sick, the poor. She had a way about her that made everyone whom she touched feel special and all who knew her were better off for the experience. The world has lost a bright light and she will be greatly missed. Betty was predeceased by her husband of 37 years David De Lancey Jones and their firstborn, a daughter Carol May Jones.
She is survived by eight children; David Bruce (Susan) of Woodlawn, Tenn., Debra Kellogg (Mark Weir) and Patricia Rossbach of Scipio Center, Roy Jones (Carla) of Union Springs, N.Y., Clifford Jones (Susan) of Auburn, Diane MacArthur (David Banner) of Poplar Ridge, N.Y., Edward Jones (Martha) of Chaumont N.Y., and Allen Jones of Savanna, N.Y. She also leaves 20 grandchildren, Big Kim, Little Kim, Gabby, Kevin, Kelly, Kris, Kyle, Dennis, Cody, Adam, Jenna, Chris, David, Dustin, Brad, Amanda, Ryan, Mathew (deceased 1989), Curtis, Jessica. 15 great-grandchildren, Brittany, Brandon, Madelyn, Mack, Molly, Kayelyn, Corey, Isabel, Olivia, Chiersten, Clayton, Kadi, Kylah, Jacob, Lilly; two great-great-grandchildren Todd and Tristan.
Calling hours: 3 to 7 p.m. Friday, March 8, at Skaneateles Presbyterian Church, 97 East Genesee St, Skaneateles, NY 13152. Celebration of her life: 11 a.m. Saturday, March 9, at Skaneateles Presbyterian Church. Arrangements by the B.L. Bush & Sons Funeral Home, 10 Genesee St, Camillus. Contributions in lieu of flowers can be made to Amboy Belle Isle United Church, 6190 Airport Rd, Syracuse, NY 13209. Please sign guestbook at blbush.com.