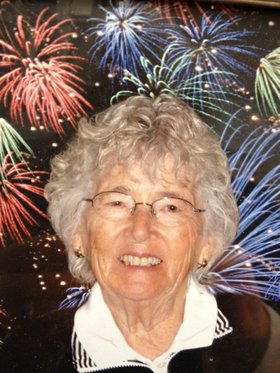 Mary Omans
unknown - unknown
Mary Louise Omans, 91, of Erieville, passed away unexpectedly in Reno, N.V.
Mary was predeceased by Charles Harvey (Bud), her husband of 63 years, on Sept. 27, 2010.
A private ceremony was held on Jan. 4 at the Masonic Chapel and Memorial Gardens. Mary was born on July 4, 1921, in Utica, and was a firecracker all of her life.
She worked at the family store, Leland's Grocery, in Barneveld.
She also worked at Savage Arms in Utica as the chauffeur for the president/ CEO where she was introduced to "Bud" by their mutual friends Hilda and Floyd Planck of Erieville.
Mary also worked as a phone operator in both Barneveld and Cazenovia.
Mary was a school bus driver for Cazenovia Central School district from 1959 until retirement in 1984.
She also helped run the 150 acre family farm for 66 years.
Mary was a lifetime member of the Oriental Chapter No. 119 Order of the Eastern Star, also the Erieville United Methodist Church, where she sang soprano in the choir.
Mary loved her grandchildren, flowers, animals, singing, bingo, movies, shopping and her school bus "kids".
She is remembered by her children Gareth "Gary" (Laurie) of Cazenovia, Christopher, Ellabell Ga., Maureen (Jay) Collins , Washoe Valley, NV.
Survived by her sister Dorothy Hicks, Novato Calif.; brothers in Law John (Carol) Omans, Garner Iowa, Robert Mattison, Fulton; Sisters in law, Hetty (Googie) Omans, Morrisville, and Jean Omans, Erieville;
5 grandchildren; 9 great grandchildren and several nieces and nephews; her best friend Hilda Planck and constant companion Muffin (aka "monkey face").
A celebration of her life will be held on or near her July 4th birthday 2013, at the Welsh Church with internment next to her beloved husband, "Bud", in the Union Cemetery.
Details of this celebration will be announced in June.
Contributions in her memory may be made to the Erieville United Methodist Church, c/o Lois Stauring PO Box 54, Erieville, NY 13061. To send an online condolence, please visit taitfuneralhome.com.