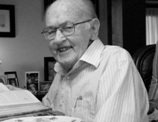 Jack Phillips
unknown - January 12, 2013
Jack Edward Phillips, 93, of Fayetteville passed away Jan. 12, 2013, at home, to join his beloved wife Yvonne, who passed eight months prior. Jack was surrounded by his family, in the home he and Yvonne cherished for 44 years.
Born on June 8, 1919, in Portland, Ore., Jack was an engineer at General Electric for 44 years. He earned his bachelor's degree in electrical engineering from Oregon State College. He was registered in the Register of Professional Engineers. Jack has hundreds of patents to his credit throughout his years at GE.
More importantly, Jack, also known as Babum to all his family and grandchildren, was a man of great wisdom, caring and support. One to always respond to a request for help, Jack was often found accompanying friends to doctors' and financial advisors' appointments and always supporting his children and grandchildren. Jack's greatest comforts and joys came from cooking a great meal, planting his gardens and working at his cottage on Skaneateles Lake. Jack never sat still; his work ethic was strong; he found rest and relaxation in completing the next task. He loved family and friends, truly enjoying a conversation or visit. He and Yvonne were married for 67 years.
Missing and loving Jack are his eldest son, Dr. Hal Phillips of Fayetteville NY, his daughter, Marilyn Phillips Morey of Waterford, N.Y., grandson Andrew Phillips (son of Jack's middle son, pre-deceased, Dr. David Jack Phillips, later adopted by Dr. Hal Phillips), wife Rebekkah Phillips and their son, David Scotland Phillips, Philadelphia, PA, granddaughter Skye Morey Heritage, husband Corey Heritage and their sons, Gavin Gabriel Heritage and Tynan Morey Heritage, Glenville, N.Y., grandson Brian Morey, Fayetteville, NY, granddaughter Heidi Phillips Trudell and husband Tyson Trudell, Seattle, WA, grandson Nathaniel Phillips, Berlin, Germany, granddaughter Rebecca Phillips Harington and husband Jon Harrington, Vancouver WA, and granddaughter Madison Phillips, Vancouver WA.
Memorial service: 3:30 p.m. Saturday, June 29, Pebble Hill Presbyterian Church, DeWitt. A meal of fellowship will follow the service at Jack's home. In lieu of flowers, contributions may be made to Hospice of Central NY, who expertly and lovingly helped Jack stay in the home he loved until he joined his Savior and wife. We love you so, Babum. For guest book visit scheppfamily.com.