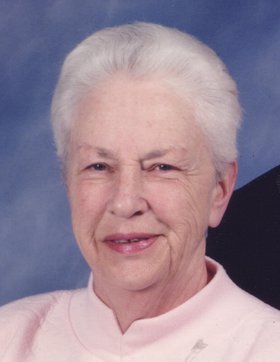 Beatrice "Bea" Pavlus
unknown - June 25, 2013
Beatrice "Bea" Pavlus, 81, of Skaneateles, passed away peacefully on June 25, 2013. She was born October 17, 1931 to the late, James and Elsie Scriven. She graduated from Skaneateles High School in 1950, and shortly after, married the love of her life, Paul William "Bill" Pavlus and on July 1st, they would have been celebrating their 63rd wedding anniversary.
Bea worked at the Colonial Theater in Skaneateles, General Electric in Auburn and retired from the Skaneateles Central School District. She enjoyed spending time with her children and especially her grandchildren. Bea particularly loved family dinner gatherings.
Bea's generous spirit, kind heart and constant presence will be greatly missed by all who knew her. We love you Grammie!
She is survived by her husband Bill Pavlus; her daughters Linda (Terry) Norris of Syracuse, Cathy (Mike) Crary of Skaneateles; grandchildren George Kusner of Ligonier, PA., Donna Kusner of Liverpool, Lisa Sofranko and Caryn Crary of Skaneateles; along with several great grandchildren, nieces and nephews. She was predeceased by her parents James and Elsie Scriven, and brothers William (Esther) and George (Jean) Scriven.
Services: 11 a.m. Saturday, June 29, at Burrows Chapel in Lakeview Cemetery, Skaneateles. Calling hours: 4-7 p.m. Friday, June, 28 at the Robert D. Gray Funeral Home 49 Jordan St., Skaneateles.
Contributions may be made in Bea's memory to SAVES Ambulance, 77 Fennell St., Skaneateles, NY 13152 or the Alzheimers Association, 441 W. Kirkpatrick St, Syracuse, NY 13204.