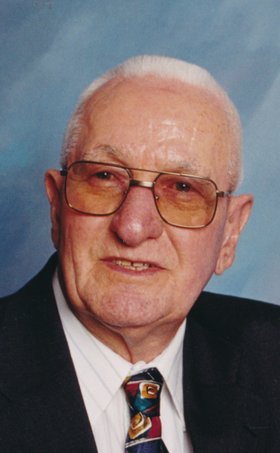 Donald C. Ward
unknown - June 23, 2013
Donald C. Ward, 95, of Baldwinsville passed away Sunday, June 23, 2013, at Syracuse Home. He was born in the town of VanBuren and lived in the Baldwinsville-Lysander area most of his life. Don was a retired employee of the town of Lysander Highway Department. A U.S. Navy veteran of WWII, he was a life member of the VFW Post 153 and a member of the American Legion Post 113 both in Baldwinsville. He was also a member and past chief of the Lysander Volunteer Fire Department.
Don was predeceased by his wife of 71 years, Alice Beebe Ward in 2011, a daughter, Donna L. Ward in 2009 and a son Donald "Chuck" Ward, Jr. in 2010.
Survivors: his daughters, Sally (Gordon) Clarke of Cato, Norma (Stan) Newman of Sandy Pond, Margaret Seeley of Sandy Pond, Nancy (Skip) Thomas of Baldwinsville and Kathy (Dave) Rode of Sterling; 12 grandchildren; 21 great-grandchildren; several nieces and nephews.
Services: 7:30 p.m. Wednesday, June 26, at Falardeau Funeral Home, 93 Downer St., Baldwinsville. Calling hours are 5 - 7:30 p.m. Wednesday, prior to the service. Burial at the convenience of the family in Lysander Cemetery. Contributions: Syracuse Home Foundation, 7740 Meigs Road, Baldwinsville, NY 13027-9757 or American Legion Post #113, 8529 Smokey Hollow Road, Baldwinsville, NY 13027.