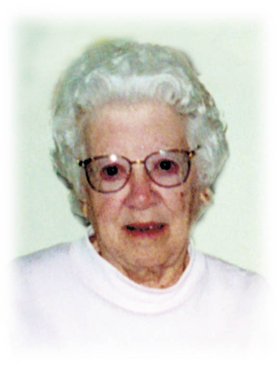 Eva Manfredi
unknown - June 18, 2013
Eva R. Cipollone Manfredi, 99, formerly of Mattydale, passed away Tuesday, June 18, 2013, at Francis House. She was born in Saskatoon, Saskatchewan and resided in the Syracuse area since 1947.
Mrs. Manfredi belonged to St. Margaret's Church and for over 50 years was a member of the Altar Rosary Society. She also belonged to several Canasta clubs and senior organizations.
Michael J. Manfredi, her husband of 41 years, predeceased her on Dec. 6, 1987.
Surviving are her children, Michael T. (Stephanie) Manfredi and Kathleen (Robert) Brzezinski; three grandchildren, Trisha (Jeffrey) Brenner, Michelle Manfredi and Jeffrey Brzezinski and several nieces and nephews.
Services: at 10 a.m. Monday, June 24, at St. Margaret's Church, Mattydale with entombment following in St. Mary's Cemetery, DeWitt. Donations may be made, in lieu of flowers, to Francis House, 108 Michaels Ave., Syracuse, New York 13208. Memorial messages may be left at FergersonFuneralHome.com.