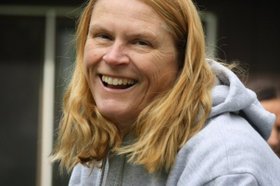 Teresa Becker
unknown - June 13, 2013
Teresa "Terri" Lanterman Becker, 59, of Union Springs, died Thursday, June 13, 2013, from complications of ALS (Lou Gehrig's Disease). Terri was born May 5, 1954, in Salem, OH; she worked as Director of Youth Development for Cornell Cooperative Ext. in Madison County, before her retirement in 2012, due to her illness. She received a Masters' in Education from SUNY Oswego. She was a life member of the NYS 4 H Agents Assoc., a member and past president of the State Capital Days Commission, and received the NYS Cooperative Ext. Agents Distinguished Service Award. She was predeceased by her first husband Larry Lanterman in 1999.
Surviving are her husband David, daughter Alida (Tom) Smith of Dryden, son Grant (Maria) Lanterman of Endwell, step-son Brian (Kelly) Becker of Penfield, brother Sam (Jeanette) Douglass of Bloomington, Ill., sisters Karen (James) Bauser of Houston, TX; and Erle (Danny) Blake of Columbia, SC; four grandchildren Connor, Aryana, Ashley and Peter, and several nieces and nephews.
Services 10:30 a.m. Friday, June 21, in Fleming Federated Church, Fleming. Burial in Cool Springs Cemetery, Leetonia, OH. Calling hours: 2 to 4 and 7 to 9 p.m. Thursdsay, June 20, at the Robert D. Gray Funeral Home 49 Jordan St., Skaneateles. Contributions may be made to the Fleming Federated Church c/o Denise Bogliono 1798 Delaney Rd. Union Springs, NY 13160. To send condolences visit: robertdgrayfuneralhome.com.