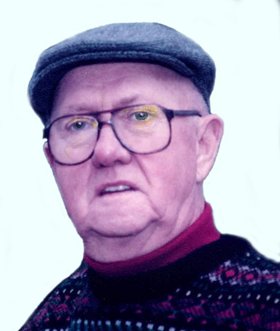 Robert J. Dooley
unknown - June 9, 2013
Robert J. Dooley, 87, of Camillus, passed away peacefully at his home Sunday, June 9, 2013 after a brief yet courageous battle with cancer. Born on Thursday, April 8, 1926, in Troy, he lived in the Syracuse area most of his life, including the past 57 years in Camillus.
Bob served in the Navy during WWII, married the love of his life, Joanne Tomi, on July 19, 1947, and soon went on to serve as a printer for the Syracuse Herald-Journal for 38 years, retiring in 1991. He was a communicant of Holy Family Church.
For years, Bob enjoyed Sundays with any of his children at Syracuse Chiefs games at MacArthur Stadium. Later in life, he derived great joy from attending events in which his grandchildren participated.
Bob was predeceased by his daughter, Karen Kowarek (1995); brother, William Dooley (2002); and sister, Eleanor Murray (2007).
Surviving are his wife and best friend of 65 years, Joanne; sons and daughter-in-law, Michael, Richard, Patrick and Mary and Steven Dooley; grandchildren, Erin Gordon, Christopher Dooley, Maureen Gardner, Kevin Dooley, Bridget Dooley, Cara Dooley, Elaina Dooley and Brennen Dooley; two great-grandchildren; several nieces and nephews; and his canine buddy, Maggie.
Relatives and friends called Friday, June 14 from 11:30 a.m. to 12:45 p.m. at the Buranich Funeral Home, 5431 W. Genesee St., Camillus. Services followed at 12:45 p.m. at the funeral home and 1:30 p.m. in Holy Family Church where a funeral Mass was celebrated with Rev. Richard P. Prior Jr. officiating. Burial was in Greenlawn Cemetery, Warners.
In lieu of flowers, Bob had requested that one consider supporting Holy Family Church Food Pantry, 127 Chapel Dr., Syracuse, NY 13219.
Bob and his family would like to express their sincere gratitude and appreciation to Ms. Sandra Fennessy and Hospice of CNY for the support and loving care they helped to provide Bob at the end of his life. Please share online condolences at BuranichFH.com.